We all know that wedding planning is stressful, time-consuming, and expensive. Between fumbling over the guest list with your parents, convincing your soon-to-be-spouse that you need that Dyson vacuum in your registry, and crash dieting for the last dress fitting…you're ready to snap at anyone who harmlessly approaches you. You swore you'd never enter bridezilla territory and you didn't know the difference between tulle and chiffon, but here you are, smelling them from a mile away.
And the honeymoon? Another extravagant splurge? Well, what if I told you that you and your to-be could have your dream tropical honeymoon without making your wallet cry once again?
Cecilio and I had our honeymoon in Playa del Carmen, Mexico. Our dollars went far and we vacationed lavishly on a budget, drinking $4 chocolate mezcal cocktails and 6 street tacos for under $4. We stayed in the honeymoon suite, the biggest room in the now-defunct Aventura Mexicana for $150/night. While we definitely splurged on our wedding, we were able to celebrate our union affordably.
I wrangled other travel bloggers to help you find your perfect beachy romantic getaway. Don't worry, you won't find the Maldives or Bora Bora on this list!
My mission in this blog is to make sure you can live luxuriously on a budget. With these affordable beach honeymoon destinations, you won't need to create a honeyfund registry; so that means you can still shamelessly ask for that Dyson vacuum.
Disclaimer: This post uses affiliate links, which means I make a commission if you book through this post. If you do decide to book using my links, thank you so much for your support!
Affordable Beach Honeymoon Destinations in the U.S.
St. Pete Beach, Florida
Contribution by Rachel of Rachel's Findings
The Flordia Gulf Coast is home to some incredible beaches. In particular, the laidback nature of St. Pete Beach combined with the gorgeous sunsets, free activities, a wide range of interesting bars, and romantic dining options. This makes it the perfect location for an affordable beach honeymoon!
Low-cost things to do near St. Pete Beach include going for long walks on the beach, perusing the weekend markets, renting bikes or scooters, exploring private islands like Egmont Key or Shell Key Preserve via ferry, and of course laying out to tan or going swimming!
A paid activity that is worth spending money on is a sunset sailboat cruise. The slow pace of the sailboat is super relaxing and romantic; nothing beats cuddling up with your partner for a gorgeous sunset! Depending on which company you book with cruises typically last a couple of hours and allow you to bring your own drinks on board.
One of the most picturesque restaurants and rooftop bars on St Pete Beach is Spinners Rooftop Grille and their Level 11 Rooftop Bar. Dining at the restaurant will be a splurge but a cheaper alternative is to grab some happy hour appetizers and drinks from the bar and soak up the 360-degree views from the wrap-around deck! They even have cozy lounge chairs to make yourselves comfortable on!
Where to stay in St. Pete
The most challenging part when planning a budget-friendly honeymoon is finding a reasonably priced place to stay with a lot to offer. I particularly love the Sirata Beach Resort because even during peak season (February to May) you can get a king suite with an ocean-view balcony for under $400 USD a night! The offseason will be even cheaper.
Rooms are simple but modern and the property has a whirlpool, three pools with tons of lounge space, a fire pit, an indoor and outdoor restaurant, and an outside bar.
Want to go even cheaper? Try staying a few minutes north of St Pete Beach. Thunderbird Beach Resort right on Treasure Island has a tiki bar and live entertainment. Barefoot Beach Club on Madeira Beach also has wonderful amenities and a great location.
Savannah, Georgia
Contribution by Victoria of Southern Trippers
If you're looking for an affordable beach honeymoon then you can't beat Savannah, Georgia. After all, Savannah is the oldest city in the state and is filled with charming cobblestone streets, historic buildings, amazing squares, and fun beaches. Add to this vibrant nightlife, exquisite culture, and incredible museums and you have an ideal place for a honeymoon.
In fact, some of the fun free things to do in Savannah include a romantic walk through Forsyth Park, a visit to the Cathedral Basilica of St John The Baptist (it's the oldest Catholic Church in Georgia), a complimentary 40-minute tour of Ghost Coast Distillery, and a gorgeous stroll through Bonaventure Cemetery.
Plus, this city is known for being incredibly friendly. Therefore, you will have no problem walking through charming streets, like Jones Street, before taking a day trip to Jekyll Island. Just don't leave without seeing the one-of-a-kind Driftwood Beach. It is an epic spot that is known for the gnarly driftwood that washes ashore, making it an ideal place for photos.
Afterward, head to Tybee Island and go for a romantic walk along South Beach. It's a beautiful sandy beach that even has a pier for you to explore. Then head to historic Fort Screven and the still functioning Tybee Lighthouse, which dates back to the 18th century.
Where to stay in Savannah
You can spend the night at the lovely The Isetta Inn. It's a great little hotel in the downtown area that is quiet and that has rooms that are well-priced at around $140.00 per night.
Oahu, Hawaii
Contribution by Hannah of Hannah on Horizon
It may seem like Hawaii and affordable don't belong in the same sentence, but I promise that you and your beloved can have a fantastic honeymoon in Oahu without breaking the bank. As Hawaii's most affordable island and home of the state capital, Honolulu, there is no shortage of things to do in Oahu, from sunbathing in Waikiki Beach to hiking and turtle-watching on North Shore.
If you want to swim in calm waters and watch the sunset (how romantic!), head over to Ko Olina Lagoons off of West Oahu! The large rocks prevent the waves from coming to the shore, so it feels like a pool…with sea critters. That's right, Ko Olina is a great snorkeling spot, so make sure you pack some gear!
For a unique experience, visit the Manoa Chocolate Factory for a tour. The staff will walk you through the bean-to-bar process, from sourcing the beans from Latin America and Africa to roasting, winnowing, and molding them into chocolate. Of course, the best part of this tour is tasting all of Manoa's chocolates in their collection. You also get to sip samples of chocolate tea to cleanse your palate between tastings.
Where to stay in Oahu
If you stay in Honolulu, you can find a handful of budget and midrange hotels (especially during shoulder or off-season). I recommend staying in Shoreline Hotel Waikiki, which is minutes away from Waikiki Beach. The hotel is fun with Instagrammable and colorful decor, and the staff greets you with samples of Dole pineapple whip when you check in! My husband and I stayed there for 4 nights for around $180/night, which isn't too bad for Hawaii in August. Read more about our stay at Shoreline Hotel Waikiki!
Clearwater, Florida
Contribution by Candice of Exploring the Gulf
Clearwater is just a beautiful beach destination, no matter the reason for your visit. However, if you are looking for a romantic getaway on your honeymoon, you will be impressed. This place blooms for romance with its white sand beaches, turquoise water, and stunning sunsets.
The main attraction, of course, is the beach itself. You can spend your newlywed days sunbathing, swimming, or taking romantic strolls along the shoreline. The beautiful sunsets over the Gulf of Mexico are truly a magical sight.
Clearwater also offers plenty of affordable activities that couples can go on and explore together. You can take a romantic sunset cruise while looking for playful dolphins. Another unique experience that is perfect for couples is taking a kayak tour. Here you can look for the gentle giants, known as the manatees while cruising along some beautiful mangroves. If you're looking for fun outdoor explorations, you can head over to Caladesi Island State Park.
You will want to enjoy the daily catch with some fresh seafood and tropical drinks at one of the many local restaurants. Evenings are perfect for visiting Pier 60. This a great place to wind down and enjoy the entertainment, sunset celebrations, and local performers and artisans. Clearwater will be a destination you will want to continue to come back and re-celebrate your special memories.
Where to stay in Clearwater
If you're looking to have the most indulging stay, you will want to head over to the JW Marriott Clearwater Beach Resort & Spa. This hotel does not skimp out on amenities, you get a pool, a gym, and an in-house spa. Their couples treatment rooms, sauna, steam room, and body treatments are just the cherry on top for this beautiful beach honeymoon.
Affordable Beach Honeymoon Destinations in Mexico
Playa Del Carmen
Contribution by Hannah of Hannah on Horizon
About an hour south of Cancun, Playa del Carmen is a small yet lively town without the concrete jungle madness. No matter where you stay, you're steps away from the beach. You don't even need to stay in the beachfront resorts, as they tend to be much more expensive. If all you want is to lounge around and dip your body in the ocean, you can get a day pass to one of Playa del Carmen's beach clubs like Mamita's or KOOL, pull up a chair and relax. You can order all the food and drinks to your heart's content.
Playa del Carmen is also known for 5th Avenue, a pedestrian-only street filled with shops, restaurants, food stalls, and hotels.
Playa del Carmen is also a great destination to base yourself in for day trips to Cozumel and Tulum. If you love water activities, you are going to love Cozumel; it's a world-class snorkeling destination, and it's only 30 minutes away through the ferry.
Don't forget to take a tour to Chichen Itza, one of the world wonders. This is where I recommend you splurge; go with a tour group so you can sleep and relax in an air-conditioned bus and not worry about getting lost.
For a comprehensive cultural experience, visit Xcaret. It's an eco park with animals (including a small aquarium), a variety of eateries, two chapels, water activities (including a cenote!), and an equestrian show in the evening. Don't leave without watching the night show, Mexico Espectacular, where the actors and dancers storytell Mexico's history from ancient Mayan times to colonization by the Spanish.
Where to stay in Playa del Carmen
While I would love to recommend the hotel Cecilio and I stayed for our honeymoon, it shut down permanently. Instead, you can take a look at the list of boutique hotels in the Riviera Maya that I and other travel bloggers compiled, most of which are in Playa del Carmen. If you want to stay at a hip yet budget-friendly hotel with a rooftop pool and bar with vibrant decor, look no further than The Palm at Playa!
La Paz
Contribution by Annie of Your Friend the Nomad
Just two hours away from Los Cabos, La Paz is the hidden gem honeymoon destination that is home to the most beautiful beaches in Mexico.
This sleepy capital city is situated on the calm Sea of Cortez, with calm, shallow water in breathtaking shades of blue. Compare this to the unswimmable rough beaches of nearby Los Cabos, and vacationing in La Paz is a no-brainer.
Outside of relaxing on the beach and wading in the crystal-clear water, there are plenty of exciting things for newlyweds to do in La Paz.
Thrillseekers can swim with whale sharks or sea lions in the Sea of Cortez. Outdoorsy folks can rent a car and head to the Santa Rita Hot Springs and Sol de Mayo waterfalls in nearby Santiago. Those interested in history and culture can learn about Baja California's indigenous roots at the Museum of Anthropology and History.
And a trip to La Paz would not be complete without a few strolls down the lively Malecon waterfront boardwalk, and an exploration of the city's historical center.
Where to stay in La Paz
La Paz is also an excellent destination because of its proximity to the US, and its affordable accommodations, activities, and food. A stay at a highly-rated hotel with a water view, such as Hotel & Suites El Moro, will cost you as little as $99 a night.
Puerto Escondido
Contribution by Ashlea of She Roams About
On the Oaxaca Coast of Mexico, far from the glitz of Cancun is the beautiful, hidden beach town of Puerto Escondido. While Puerto Escondido has always been a draw for surfers and yogis, a new wave of travelers is discovering the magic and romance of this relaxed destination.
Whether you like to flop on the beach, lounge poolside, or prefer to be a little more active, Puerto Escondido has so much to do and see that everyone is sure to find something they'll love.
The best part is that activities, restaurants, and hotels in Puerto Escondido cost a fraction of what they would along the Riviera Maya which means a modest budget goes a long way.
Ride horseback along the beach at sunset, float under the stars in a bioluminescent lagoon, hike to the hot springs, sip mezcal at an ancestral distillery, and catch the most stunning sunsets on the beach! There are countless affordable ways to make lasting memories here.
Puerto Escondido has yet to be discovered by the masses which means you won't find massive resorts and chain hotels all along the coastline. Boutique hotels are the name of the game here.
Where to stay in Puerto Escondido
Aldea del Bazar Hotel and Spa in the quiet Bacocho neighborhood is a great option for those looking for modern amenities without breaking the bank. This boutique hotel is totally unusual with an Arabian style that will have you wondering if you're really in Mexico! Stunning grounds, a gorgeous pool area, and an on-site spa help make this the best-value hotel in town.
Puerto Escondido has so much to offer honeymooners and with its lesser-known status, it's excellent value too. It's easy to see why travelers are starting to choose Puerto Escondido as a romantic beach destination.
Todos Santos
Contribution by Daria of Explore Baja California
Located in Baja California, Todos Santos is a perfect spot for a fun, adventurous honeymoon, where you can enjoy outdoor activities like surfing, hiking, and exploring the local food scene in the historic town.
From sampling delicious food in downtown Todos Santos to watching colorful Pacific sunsets and enjoying the local art scene, there are plenty of romantic things to do in this place.
Todos Santos has a thriving arts scene with numerous galleries and art studios. It's known for its vibrant art community, and you can explore and appreciate the work of local and international artists.
Enjoy stunning beaches, including Playa Cerritos and Playa Los Cerritos, which are known for surfing and relaxation. The desert landscapes and nearby mountains provide opportunities for hiking and outdoor adventures.
Just 6 miles from Todos Santos, you will find El Pescadero, a popular surfing beach where you can grab a board and learn the popular sport from one of the schools in the area.
Head to Playa Cachorro for an epic sunset – a hidden gem located just outside of Todos Santos that can be reached by a quick drive or bike ride.
A highlight of any trip to Baja California is a hike to the spectacular Punta Lobos hike which offers incredible panoramic views of the Baja California coastline. It's not uncommon to see whales splashing in the Pacific Ocean when visiting this destination.
Additionally, the area is a prime spot for whale watching, especially during the winter months when gray whales migrate to the area. There are tours available for a close encounter with these magnificent creatures.
Where to stay in Todos Santos
Book Hotel San Cristobal for a romantic getaway in Todos Santos. This gorgeous property faces a secluded beach and boasts wonderful amenities.
Bacalar
Contribution by Jessica of Uprooted Traveler
The Maldives are known for its exquisite blue water, sandy beaches, and, of course, expensive price tag. So, if you're on a budget, why not, instead, head to Bacalar, Mexico? This pueblo magico is actually nicknamed the "Maldives of Mexico", due to its incredible lagoon with crystal clear, turquoise water.
There are tons of things to do in Bacalar, ranging from relaxing and romantic to adventurous activities.
For example, consider signing up for a sunrise standup paddle board tour of the Lagoon of Seven Colors to watch the first rays of the sunlight and the spectacular color of the water. Alternatively, check out Los Rapidos, a beach club built along a narrow section of the lagoon with a gentle current that acts as a natural lazy river. Hold hands as you float together down the warm water of the lagoon and when you need a break from the sun, enjoy some cervezas at the club.
One of the best aspects of Bacalar is that it's relatively easy and affordable to get to. This small town is located four and a half hours south of Cancun, which is usually easy to find affordable round trip airfare to. From Cancun, you can either book a direct shuttle or a rental car to get to Bacalar, which will feel like a different universe than most of Riviera Maya's touristy vibes.
Where to stay in Bacalar
Alternatively, if you're looking to relax after your wedding, consider booking a room at Mia Bacalar Luxury Resort, where you can indulge in a couples' massage or other treatments. When you're done with the spa, there are still plenty of features to enjoy at the resort, from its location along the shore of the lagoon to an excellent onsite restaurant.
Affordable Beach Honeymoon Destinations in Europe
Algarve, Portugal
Contribution by Linn of Amused by Algarve
If you are looking for the ultimate beach destination for your honeymoon that is still affordable, the southern coast of Portugal, the Algarve is an excellent option. The beaches in the Algarve are some of the best in the country offering picturesque settings for a romantic photoshoot.
The region is very different from the east to the west. Eastern Algarve is the more relaxed part with fewer tourists even in the high season. There, you can visit charming towns like Tavira and Faro while you can spend your days taking boat trips to the idyllic barrier islands of Ria Formosa Natural Park. These islands offer idyllic beaches and charming little fishermen's settlements.
On the western Algarve on the other hand, tourism is thriving, surf is up all year round, and there are plenty of activities to do for adventurous couples. Visit the Benagil Caves on boat tours from Lagos or Portimao, explore the jaw-dropping rock formations of Ponta da Piedade, or hike along the 60-meter tall cliffs in Sagres. There are also plenty of snorkeling, diving, and kayaking opportunities if you are looking for unforgettable experiences from your honeymoon.
Where to stay in Algarve
Stay at Cascade Wellness Resort where you can indulge in the outdoor pool, relax in the garden, and take a couple's massage in the spa and wellness center.
Antalya, Turkey
Contribution by Kedi of Let's Travel to Türkiye!
Located along the country's southern coast and bordering the Mediterranean Sea, Antalya is one of the most popular destinations in Turkey and an excellent place to go on a honeymoon!
In fact, there are a few reasons why you should consider Antalya for your honeymoon: there are more than a dozen beaches within a short distance from the city center, the atmosphere is absolutely romantic, and you can customize your trip to be as relaxing or as adventurous as you want.
First and foremost, let's talk about the beaches: some of Turkey's most beautiful beaches are located in and around Antalya, including the famous Konyaalti Beach, Mermerli Beach, and Lara Beach. If you're up for a road trip, be sure to visit Turkey's longest beach — stretching more than 18 km (11 mi)! — the secluded Patara Beach.
Likewise, Antalya is very romantic: what could be better than taking a nighttime stroll along the colorful cobblestone streets of Kaleiçi, enjoying a delicious seafood dinner overlooking the sunset, or taking a cable car ride up to Tahtalı Mountain? Finally, Antalya offers plenty of things to do, from simply chilling on the beach to taking a boat cruise, visiting ancient cities and temples, relaxing in a traditional Turkish bath (hamam), and more.
Where to stay in Antalya
One of the best honeymoon resorts in Antalya is Porto Bello Hotel Resort & Spa, which is an all-inclusive resort that has its own private beach, indoor and outdoor swimming pools, a spa, and more.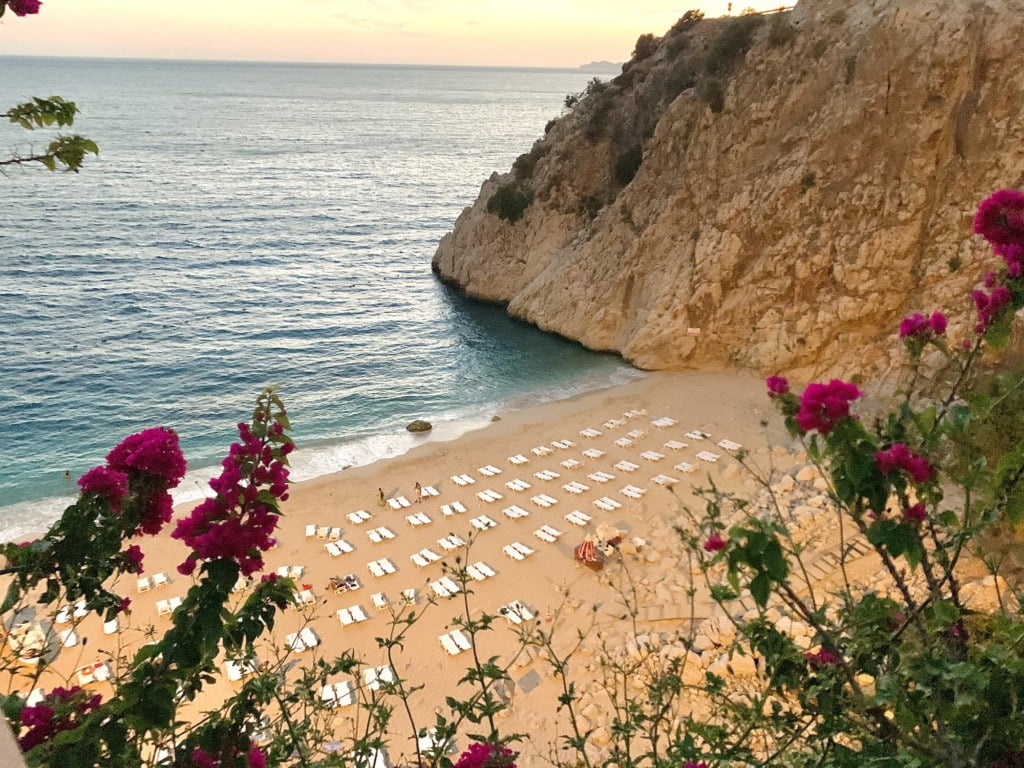 Costa del Sol, Spain
Contribution by Cristina of My Little World of Travelling
Costa del Sol in Southern Spain is a fantastic destination to celebrate a beach honeymoon.
Costa del Sol refers to Malaga and all the nearby coastal towns in the province, and its name originated because of the numerous sunny days the area enjoys every year.
It is a popular summer holiday, but the truth is that there's more than beaches. By staying in Costa del Sol, couples can visit the traditional and romantic white-painted towns, have a culinary experience, visit a local winery, and more.
Within Costa del Sol, Marbella is one of the top locations for honeymooners, but Benalmadena is a better option for those looking for a more affordable destination.
It has incredible blue flag beaches to relax and enjoy each other's company, highly-rated adult-only resorts for more intimacy, and charming attractions like Castillo de Colomares.
Also, there are many lovely day trips from Benalmadena for couples, like Mijas Pueblo, Ronda, and Estepona. But for those who love culture and don't have much time, Malaga is a must-see. It has some of the best museums in Southern Spain and impressive historical buildings like Alcazaba.
Where to stay in Costa del Sol
For an affordable but romantic stay, choose Hotel Alay in Benalmádena, a 4-star adult-only recommended hotel with beautiful rooms and an excellent location (next to the beach!)
Mallorca, Spain
Contribution by Aime & Seb of Our Salt Souls
Mallorca located in the Mediterranean is the perfect island destination for your romantic honeymoon. With its relaxed vibes and pristine beaches, Mallorca is a paradise for couples looking for the perfect escape. There are so many beautiful beaches to explore on the island and if time permits it is recommended to spend at least 7 days in Mallorca.
When heading to Mallorca it is best to visit during the shoulder season, which runs from May-June & Sept-Oct, so that you are able to enjoy all of its beautiful beaches without the crowds. The weather during this time is reliably sunny and the water temperatures warm enough for you to be able to comfortably enjoy the sea.
The capital city of Mallorca is Palma. The city is full of fun and creativity and is also an excellent base for your romantic beach holiday.
Where to stay in Mallorca
If you want to stay in the city itself then try HM Palma Blanc. Palma's great location offers easy access to various beaches across the island via public transport eliminating the hassle of hiring a car. From Palma, you are able to explore the island with day tours and boat excursions that explore the stunning beaches along the coastline.
For those who wish to rent a car and venture farther from Palma consider a stay at the beautiful Finca Hotel Rural Es Turo. Situated 50 km east of Palma and just 10 km from Santanyi, this provides convenient access to the splendid Cala Lombard beach. From here, you can also explore nearby gems such as Cala Pi, Es Trenc, and Calo del Moro, all within a short drive.
Malta
Contribution by Linn of Brainy Backpackers
You might wonder, is Malta worth visiting? The answer is YES! It is a wonderful honeymoon destination with mesmerizing beaches, picturesque hikes, jaw-dropping cliffs, and an abundant history. There are wonderful towns and cities to visit on day excursions with intriguing architecture.
The crystal clear water in Malta's many bays makes it a dreamy destination for beach dwellers but also for anyone looking for a snorkeling or scuba diving experience. Take a boat trip to Comino Island where you can walk around the entire island to explore the dreamy beaches and go snorkeling in the Blue Lagoon. It is also worth taking the ferry to Gozo Island to see the island, eat fresh local food, and explore more beaches.
Malta is incredibly affordable to travel around with bus tickets for 1.50 Euros for 2 hours and the bus network is great covering most places. There is also free Wi-Fi on the buses.
Where to stay in Malta
Valletta is a great city to base yourself as you easily can go on day trips from there, but if you want something near the beach, check in at QAWRA Palace Resort & SPA at St. Paul's Bay where you can lounge in the pool with sea views and easy access to the beach.
North Uist, Scotland
Contribution by Kristin of Scotland Less Explored
Scotland might not be the first beach destination that comes to mind. A trip to one of the many Scottish beaches is not likely to include sunbathing and swimming in warm waters. However, for anyone who likes walking and the outdoors Scotland is a fantastic beach destination.
Some of the beaches in the Outer Hebrides look like they could be in the Caribbean. The waters are turquoise and the sand is bright white. There are many good walks such as the one around the Udal peninsula which takes in 5 amazing beaches. Another interesting walk is to Vallay Island. It is only possible to walk around low tide. The rest of the time the island is cut off from North Uist by the sea. This bay is also very pretty a few hours before or after low tide when you will see amazing blue and turquoise waters.
What makes North Uist a great place for a honeymoon is that most of the time you will have the beaches and the walks all to yourself. After exploring the island you can come back to a cosy cottage with a log burner or a hot tub.
Where to stay in North Uist
There are several hotels and B&Bs on North Uist but one of the cheapest options is to stay in a self-catering cottage such as Creagan na Mara. At a higher price point try Skipper's Retreat which has a hot tub. Being able to cook your own food also brings the cost of your honeymoon down considerably. For a meal out try Langass Lodge or Berneray Bistro but remember to always make a reservation in advance.
Ibiza, Spain
Contribution by Louise of Travel with the Whitrows
Ibiza is a popular European destination for honeymooners due to its warm weather, stunning beaches, and lively nightlife. The beauty of the island is perfect for a romantic getaway and the variety of restaurants and activities make it affordable for any budget, especially in the smaller, more peaceful resorts. Ibiza is a province of Spain and is one of the Balearic Islands off the southeastern coast of the mainland.
Ibiza has something to suit any budget, from castles to beaches or exploring the island by boat. Take a stroll through the cobbled streets to the top of the Ibiza Castle for unmissable views across Ibiza. Along the way, there are many cafes to stop and enjoy your surroundings, or even do some shopping in the boutique shops within the castle walls.
If beaches are more your style then make sure to visit some of Ibiza's stunning beaches, including Cala Llonga and Cala Nova. The easiest way to do this is on one of the island ferries. The cost is reasonable and they travel along the Ibiza coastline stopping at several beaches and towns so there's plenty to explore.
Where to stay in Ibiza
If you're looking for a resort that is peaceful but central to enjoying the rest of the island then take a look at Grupotel Saint Eulària & Spa, an adults-only hotel with a lagoon-style pool, spas, Turkish baths, live music, and entertainment at night.
There are plenty of restaurants, shops, and bars so you can find somewhere delicious to eat no matter the budget. This resort is perfect for a honeymoon as the beach, Santa Eulalia Bay (Platja des Riu de Santa Eulalia) is dotted with beachfront restaurants where you can relax and enjoy a romantic meal watching the sunset.
Affordable Beach Honeymoon Destinations in Asia
Krabi, Thailand
Contribution by Martina of Places of Juma
One of the most romantic and inexpensive honeymoon destinations in the world is definitely Krabi in Thailand. This magical Thai destination will be your favorite, especially if you are visiting Thailand for the first time. Located in southern Thailand, more specifically on the Andaman Sea, this beautiful region is easy to get to by flying from Bangkok.
It is famous for its wild and romantic landscapes of rugged limestone cliffs, dense green forests, snow-white sandy beaches, turquoise waters, and breathtaking islands. The resorts of Ao Nang and picturesque Klong Muang are particularly well-suited for a romantic getaway.
There is much to see and experience while visiting Krabi. World famous and popular with couples are Railay Beach and Phra Nang Beach. This is also where you will find the Princess Cave, a fertility shrine with a number of phallic symbols. Moreover, from Krabi, it is possible to sail to the outlying islands of Koh Hong, Koh Poda and Chicken Island.
But there's more! Kayak, explore the mangroves, hike to viewpoints, swim in the Emerald Pool or climb the stairs of the high Tiger Cave Temple. Plus, a visit to the Krabi Elephant Sanctuary is also a wonderful experience. The sanctuary is dedicated to the welfare of retired elephants.
The best time to visit Krabi is between the months of December and April. During this time of the year, you can expect a lot of sun and very little rain.
Where to stay in Krabi
There is excellent value for money in Krabi's many beautiful hotels. For a perfect honeymoon, we recommend the Bhu Nga Thani Resort & Spa, which has a pool and a great location on the beach.
Bali, Indonesia
Contribution by Catherine of Nomadicated
With its towering volcano sunrises, bamboo villas with infinity pools, cliffside temples, and world-renowned beaches, Bali is a top honeymoon destination.
Located in central Indonesia, Bali presents couples with a unique blend of adventure and relaxation. Known for its strong Balinese-Hindu culture, stunning landscapes, and affordable luxury, this island is a paradise to explore.
In Bali, you won't find a single best beach, but rather the best beach for a particular activity. In Uluwatu, you'll find pristine white-sand beaches with crystal-clear waters, perfect for surfing or relaxing. The cliffside Uluwatu Tempe is famous for its sunsets, mischievous monkeys, and cultural Kecek dances.
Hike down to Kelingking Beach or Diamond Beach on Nusa Penida for the best landscapes. Snorkelers and divers should head to East Bali's Amed, to dive the shipwreck Tulamben or search for manta rays around Bali's islands.
Beyond its beautiful beaches, venture inland for hikes to hidden waterfalls and stroll through dramatic rice paddies. You can take a cooking class to bring some Balinese cuisine home or visit the Ubud Monkey Forest to meet some of Bali's most famous residents.
Where to stay in Bali
Luxury doesn't have to come at a high price in Bali. There are many affordable resorts and villas with famous floating breakfasts, ocean views, private pools, and top-notch services. One of our top recommendations is the Rimba by Ayana in Jimbaran. This 5-star resort boasts a magnificent sea-facing infinity pool with plenty of privacy from the outside world.
Goa, India
Contribution by Penny of GlobeTrove
If you are on the lookout for a good and yet affordable beach honeymoon destination then you really cannot go wrong with Goa. This little state of India has some of the best beaches in the world. The white sand is something that you will really want to sink your toes into. In fact, most of the quotes about Goa are inspired by the beach!
Goa also has great weather almost all year round. The only time the beach in Goa is something that you would not consider is during the monsoon season which is generally from June to August. Even then, you can catch some amazing rooms at the five-star properties for a significant discount and the moody weather is such a pleasant time to snuggle indoors.
Goa has more to offer than the beaches though. Good food, plenty of music, and historical buildings are just a small part of what this amazing place has to offer. So make sure that you take a break from the gorgeous coastline and visit some of the heritage buildings in the state.
If you are a foodie, you will find that the state has an interesting mix of cuisine that is inspired by its time as a Portuguese colony.
Where to stay in Goa
For a totally serene and romantic experience in Goa, make your way into Amadi Beach Front Resort. The hotel has a homey, cottage feel surrounded by lush plants and Ashwem Beach. Be sure to take a dip in the pool or eat your way through Breakers, the hotel's multi-cuisine restaurant.
Belitung, Indonesia
Contribution by Marya of The BeauTraveler
There is no doubt that Bali in Indonesia is one of the most affordable beach honeymoon destinations in the world. However, local Indonesians may disagree since the country has many other beach destinations far cheaper than Bali. Just an hour's flight from the capital city, Jakarta, Belitung is known as one of the most budget-friendly beach destinations in Indonesia.
Although you can't rely on public transportation to get around the island, renting a car or a bike in Belitung is quite affordable. On top of that, the traffic around the island is less busy compared to Bali or other big cities in Indonesia which makes it easier if you're a novice to driving around Indonesia.
Your honeymoon in Belitung isn't complete without island hopping around the island. Drive through Tanjung Kelayang Beach where you can rent a private boat to take you to three or four smaller islands in Belitung. The most popular one is Lengkuas Island, where you can visit the lighthouse that has become the landmark of Belitung since the Dutch colonial era.
If you're not up to swimming or sunbathing, you and your loved one can climb up the lighthouse and see the bird's eye view of the idyllic beach of Lengkuas Island from above. To enhance your honeymoon trip in Belitung, bring your snorkeling kit, or you can also rent it from the boat operator to enjoy the marine life around the island!
Where to stay in Belitung
You can book a 4-star hotel or resort around the Sijuk area, such as Hotel Santika Premiere Beach Resort Belitung where you can get private access to the coastline on the island. If you prefer to stay around the city center, you may want to book accommodation around Tanjung Pandan like BW Suite Belitung.
Affordable Beach Honeymoon Destinations in the Caribbean
Isla Rosario, Colombia
Contribution by Giorgy of G-Extreme Travel
Imagine a place where the sun paints the sky in hues of orange and purple each evening, and the gentle lapping waves of the Caribbean Sea create a soothing symphony for your ears. That place is Isla Rosario in Colombia, an idyllic beach destination perfect for honeymooners, also on a budget.
Located just off the coast of Cartagena, this tropical paradise features powdery white sand beaches, bright blue waters, and plenty of opportunities for relaxation and exploration. You can rent a private boat to explore the nearby islands, sunbathe on the beach, or enjoy a romantic dinner as you watch the sunset over the Caribbean Sea.
Plus, you'll have access to all the amenities of the resort such as kayaking, windsurfing, or snorkeling in the crystal-clear waters of Isla Rosario. With its breathtaking natural beauty and affordable prices, Isla Rosario is an ideal destination for your honeymoon getaway.
There's no better way to celebrate the start of your married life than surrounded by beachside bliss, good food, and relaxing vibes!
Where to stay in Isla Rosario
For an unforgettable experience, stay at Hotel Isla del Encanto. This all-inclusive resort features luxury accommodations with stunning views of the ocean, a tranquil spa with massage rooms, and outdoor swimming pools.
Aruba
Contribution by Shannon of Caribbean Explorer
Aruba is the perfect honeymoon destination for couples seeking romance and relaxation. With its stunning beaches, breathtaking landscapes, and luxurious accommodations, Aruba offers a unique blend of natural beauty and luxury. Aruba is an undiscovered treasure amongst Caribbean islands!
Visiting Aruba provides a range of romantic activities and experiences specially designed for couples. From sunset cruises along the coast to a romantic dinner on the beach, there are plenty of opportunities for intimate experiences.
Indulge in rejuvenating couples' spa treatments, where you can relax and unwind side by side. For adventure-seeking couples, Arikok National Park offers nature exploration and hiking trails with stunning views.
And don't miss the chance to visit the natural pool, a hidden gem perfect for a secluded and romantic swim. Aruba truly caters to the needs of honeymooners with its variety of intimate experiences tailored just for couples.
Whether you want to lounge on the beach or indulge in the island's many activities, Aruba has something for every honeymooner. Experience the magic of this Caribbean paradise and create memories that will last a lifetime.
Where to stay in Aruba
Aruba offers a range of luxury accommodations perfect for honeymooners, including beachfront resorts with stunning views and privacy, private villas for a secluded and intimate experience, and all-inclusive options for a hassle-free honeymoon.
I stayed at the Renaissance Wind Creek Aruba Resort in Aruba during my honeymoon. The resort offered stunning views of the beach, perfect for romantic walks and enjoying breathtaking sunsets together.
The room was spacious and luxurious, with a private balcony overlooking the clear blue waters. They even had a private beach area exclusively for resort guests, providing complete privacy and seclusion.
Trinidad, Cuba
Contribution by Pauline of Beeloved City
When it comes to beautiful beaches in the world, Cuba sets the standard. There are so many amazing beach towns where you can spend your honeymoon but if you want a location that is affordable but also offers a variety of day trip options, Trinidad will be the perfect destination.
Located in the southern part of the island, Trinidad is a famous UNESCO World Heritage-listed city, famous for its colorful streets and authentic atmosphere.
But it's also located only 10 minutes away from some of the best beaches in the country. The main one is Playa Ancon, that's where you will find most of the resorts.
But if you want to discover more beautiful places in the area, here are some Cuba travel tips. Make sure to go to Cayo Blanco. It's a stunning and remote island only accessible by catamaran. Here you will enjoy the stunning beaches with clear water and white sand.
This is quite a hidden gem which means you will be almost by yourself and can enjoy the romantic atmosphere.
Another great day trip option is Gran Parque Natural Topes de Collantes. It's perfect for couples who enjoy nature and would like to discover some beautiful waterfalls.
As a general thing, Cuba is a lot more affordable than any destination in North America or Europe and the honeymoon resorts here are great value for money.
Where to stay in Trinidad
Memories Trinidad Del Mar is a stunning resort located in Playa Ancon. It's all-inclusive and has everything you may need during your honeymoon including swimming pools and direct access to the sandy beaches.
San Juan, Puerto Rico
Contribution by Eleanor of Elevate Your Escapes
San Juan is a lively and colorful city, the capital of Puerto Rico, a U.S. territory. It offers a plethora of exciting experiences and is an ideal location for a tropical honeymoon.
This island boasts a wide array of attractions, from the cultural treasures found in Old San Juan, historic forts, and stunning beaches to the lush beauty of its rainforest. Getting around is easy, with options like rental cars or organized tours.
If you're yearning to escape the city, consider a visit to El Yunque Rainforest, just a 45-minute ride from San Juan. Many tour operators can whisk you away for a day of hiking, cliff jumping, waterfall slides, and swimming. There are various trails to explore, catering to different levels of hiking expertise.
In the heart of San Juan, you'll immerse yourself in the rich tapestry of Puerto Rican culture. The cityscape is adorned with houses painted in lively shades of pink, yellow, green, and blue, reflecting the city's vibrant spirit. In the evening, take a leisurely stroll and indulge in culinary delights, explore shopping options, and savor a selection of beverages.
There are many places affordable to stay in Puerto Rico, from hotels to Airbnbs, which makes the island a more approachable honeymoon destination for many.
San Juan boasts an incredible culinary scene, featuring Puerto Rican classics like Mofongo as well as modern dishes. There are many lower-cost, local restaurants in Old San Juan to celebrate at.
Where to stay in San Juan
There are many places affordable to stay in Puerto Rico, from hotels to Airbnbs, which makes the island a more approachable honeymoon destination for many. The beachfront Condado Plaza Hilton is a fantastic option for newlyweds.
Negril, Jamaica
Contribution by Hannah and Adam of Getting Stamped
Negril, Jamaica is a beautiful honeymoon destination for couples looking for affordable beach destinations. Negril is a relaxed beach town with long white sandy beaches, rocky cliffs, and clear, calm waters that make it the perfect destination to explore as well as relax.
Seven Mile Beach is one of the most beautiful beaches in the world, and you can stroll as a couple for miles, chatting and reconnecting after the excitement and exhaustion of a wedding. Or relax and enjoy the local beer Red Stripe as you spend the day on the sandy beaches or head to the water for beautiful snorkeling opportunities.
Every night, you can head to the beach for the best free attraction – the sunset over the calm waters of Jamaica or take a romantic evening catamaran tour for a similar paid experience.
If you want to relax and enjoy endless drinks, then check out the Floating Tiki Bar or jump on the One Love Bus Tour for a crazy night of drinks and entertainment. Get a true experience of the nightlife in Negril!
If you like adventure, then check out YS Falls, which is a series of tiered waterfalls that gently cascade over stone ledges with small swimming pools below. You can also be adventurous and try the rope swing or zipline that traverses the falls.
Where to stay in Negril
You can find deals at the all-inclusive Riu Negril, or you can stay at other accommodations like Negril Treehouse. I have stayed at both resorts.
Little Corn Island, Nicaragua
Contribution by Kristin of Tiny Footsteps Travel
Little Corn Island is a small, completely car-free Caribbean island in Nicaragua. It has remained relatively untouched by commercialization, which makes it a great place for travelers who want to get back to the basics of what Caribbean islands used to be. You can truly relax and unwind on Little Corn, in the company of your new spouse.
If you want to enjoy white sand beaches, island life as well as water sports like swimming and snorkeling, then you will love Little Corn Island for a honeymoon.
Little Corn is the smaller of the two Corn Islands; you guessed it, the other one is Big Corn. Little Corn Island is very small (you could hike across the island in just one hour) but has plenty of beaches, some island nightlife on outdoor patios on the main strip, and of course there is lots of scuba diving and snorkeling.
Honeymoons on Little Corn Island have the option of staying only on Little Corn or spending some time on Big Corn as well.
Where to stay in Little Corn Island
In order to get to the Corn Islands, you must fly from Managua, Nicaragua to Bluefields on Big Corn Island. From Big Corn, you need to take a small boat called a panga, which takes 30 minutes to reach Little Corn. A great place to stay on Little Corn for honeymooners on a budget is the Lighthouse Hotel & Spa. Located right by the historic Little Corn lighthouse, the Lighthouse Hotel & Spa offers oceanview rooms, a patio right near the beach, and a delicious on-site restaurant.
Affordable Beach Honeymoon Destinations in Africa
Zanzibar, Tanzania
Contribution by Anja of Anja on Adventure
Zanzibar is a tropical getaway with turquoise-colored waters, white sand, the most stunning sunsets, delicious food, and a rich history. It is one of the most beautiful and one of the most affordable beach honeymoon destinations anywhere in the world.

Jambiani is one of the best beaches to stay in Zanzibar for a honeymoon. It is a quieter village but perfect to spend some romantic time together.

Unguja island (known as Zanzibar) lies just south of the Equator and enjoys a tropical climate year-round. The best time to visit is during dry seasons which coincides with European summer, from June to September, and from the end of December to mid-February.
Although Zanzibar is famous for its turquoise ocean and pristine beaches, there are other things to do on Spice Island. Besides snorkeling and diving, honeymooners can visit other beaches, like Kendwa or Nungwi for a stunning sunset. One of the must-dos is visit to the Spice farm and get lost in the UNESCO World Heritage site Stone Town. Maybe pay a visit to Prison Island or if you feel more adventurous, go on a day trip safari to Tanzania mainland.
Where to stay in Zanzibar
One of the best places to stay in Zanzibar is Passion Boutique Hotel. This adult-only hotel is set on the beachfront and has a private pool. Besides impeccable service, they have a free breakfast included, offer room service, and can help with arranging island tours.
To Wrap it Up
Whether you're the bride, a bridesmaid, a close relative or even a guest, I hope this guide helps you figure out where you want to go for your honeymoon. When all is said and done and you declare your "I Do"'s, dance the night away, surrounded by loved ones, the wedding planning stress will be a faint memory. Just picture yourself, being one with the ocean and the golden sand exfoliating your feet, with your boo by your side. Happy honeymoon planning!
Love what you read? Share the love and pin away!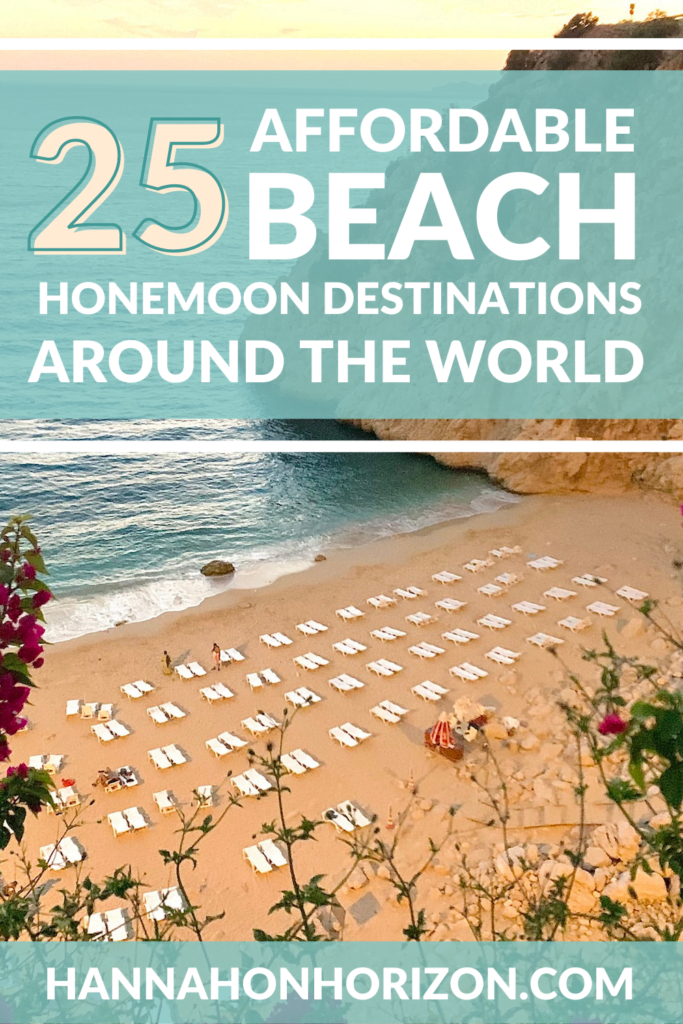 Hannah is a travel writer, graphic designer, and the founder/editor of Hannah on Horizon. She is based in Sacramento, California, living with her husband and two adorable dogs. She shares tips on how to experience luxury travel on any budget, and how to maximize time at each trip or destination, no matter what your budget or amount of vacation time at work. She enjoys making you feel like you have visited each destination with her through her storytelling and informative writing style.