When Ibiza comes to mind, I can almost guarantee that your first reaction will be "the party island?" 
You may instantly be put off visiting if this is not your scene. But what if I told you the most beautiful hidden gems in Ibiza are within your reach?
It is easy to flock to the towns such as San Antonio or Ibiza Town. However, you would be missing the beauty that is further beyond those destinations.  The 7 places listed below will show you why Ibiza is the best place in the world. They are "must-sees" so ensure you add them to your list when visiting the paradisiacal White Island.
Disclaimer: This post uses affiliate links, which means I make a commission if you book through this post. If you do decide to book using my links, thank you so much for your support!
1. Portinatx
At the tip of Northern Ibiza, you will find the quiet beach resort of Portinatx. The luscious green pine trees that line the area's beaches sit in contrast to the turquoise waters- making an opportunity for the best photos. Even if you are simply driving through, it is somewhere you must stop and take in the view at least once. 
The picturesque Portinatx Beach is the ideal place to sit back and relax, enjoying the Mediterranean climate that Ibiza has to offer.
From the shops above, there is a steep path down to the beach, surrounded by greenery.
Jardin Del Mar is one of the restaurants at the top of this path: family-run, and overlooking the beach, they offer local food for a very good price.
The seas in Ibiza are fabulous, but in particular, Portinatx is great for snorkeling, and you can cliff jump here too. The waters are calm and clear, but be sure to check for rocks beneath your jump site.
The surrounding areas of this resort offer many chances to explore. From the whitewashed village of Sant Joan de Labritja to the walking trails such as Cala Xarraca, there is something for everyone in the North of Ibiza.  
Tours in or Near Portinatx to Book
2. Pedrera de Cala d'Hort
Locally known as the Atlantis of Ibiza, this former sandstone quarry is a must for walkers. The cut cliffs have molded into strange shapes, forming pools of crystal blue water.
A small community of hippies called this home for a while and named the cove Atlantis. Make sure to keep a close eye out for the formations carved into the surrounding rocks– these are not as pronounced as they used to be but are still quite interesting.
The slope down to the cove is steep and rocky. It isn't recommended for those who are physically unfit, or if you will be pushing prams or other clunky equipment uphill.
Tours in or Near Pedrera de Cala d'Hort
3. The Fish Shack, Talamanca
This may seem like a strange hidden gem in Ibiza, and while the food there is delicious and of great value, it is not the main attraction.
We simply suggest using The Fish Shack as a point of reference for finding a much more adrenaline-pumping activity.
Unbeknownst to many, the cliffs just beyond the shack are the best place to cliff jump in Ibiza.
With points all the way along offering differing heights as high as 10 m (32 ft), the flat rocks at the top of the cliff make for a great run-up before jumping into the clear waters below.
There are also sharp rocks to climb up after your dive, so make sure to wear water shoes!
It is essential you know the proper way to cliff jump, as not doing so could cause permanent damage to your body.
Tours in or Near Talamanca to Book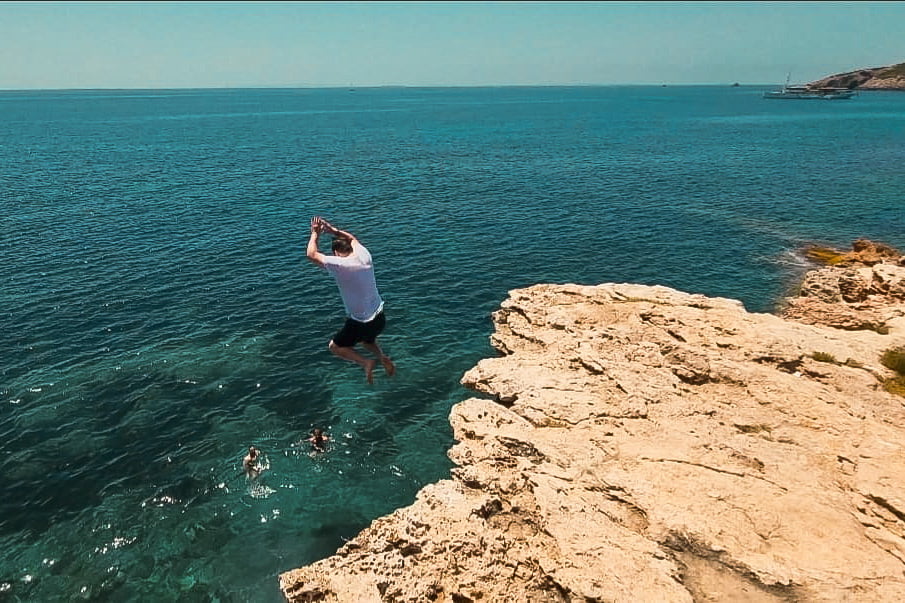 4. Cueva de Can Marçà 
Hidden in the hills of Puerto De San Miguel, Cueva de Can Marca are a unique set of caves that are now open to those visiting Ibiza.
Walk down the winding steps to the cave entrance, before entering to see stalagmites and stalactites illuminated. These 100,000-year-old caves were once used by smugglers to store contraband, with many of their markings still present on the walls.
In addition to the strange formations, you will be wowed by a colorful light show and a gigantic waterfall.
Upon your exit from the caves, you will be met by the best viewpoint in Ibiza– the most breathtaking backdrop for your family photos. Take your time walking back up the steps, and take in the beauty all around you.
There is a tourist train from Portinatx to take you to the caves, passing through Xaracca and San Joan. The cost is around €20 per person and lasts for 3.5 hours.
Tours at Cueva de Can Marça
5. Ses Salines 
Known as the Celebrity Beach, Ses Salines is located 10 minutes from Playa d'En Bossa by car. With its white sand, and array of restaurants and bars, it is the epitome of relaxation in Ibiza.
You might see well-known faces choose this beach as their place to pass the time. Many catamarans can be seen on the shoreline, and water sports is a popular activity here. However, it is not here that we are suggesting is a hidden gem in Ibiza! Ses Salines is surrounded by Ibiza's Wildlife Conservation Area. If you walk towards the watch tower you are likely to come across your own private beach.

This is a fantastic alternative to paying the outrageous prices of beach clubs in Ibiza. 
6. Port de ses Caletes
Hidden away just outside of Sant Vincent, this area is the best place to go if you want a quiet day away.
The unique boat houses are fisher's huts that have ramps for their boats. There are pebble beaches, and it is completely surrounded by cliffs and mountains: a recipe for complete solitude.
It is out of the way, so make sure you have enough food and water to keep you going through the hot weather! 
Hippy Market at Punta Arabi
Every Wednesday between April and October, you can visit the oldest handicraft market in Ibiza.
Started in 1973, this market welcomes thousands of visitors every week with an extensive selection of stalls. From clothing to food to jewelry, there is no better way to spend your Wednesday morning than strolling around the market.
It can get quite busy, so make sure to get there relatively early. Don't let the crowds put you off, those that run the stalls are incredibly kind and helpful, so be patient. 
The Hippy Market is only a 20-minute walk away from the nearby resort of Es Canar. A resort that offers activities such as glass bottom boat tours, another tourist train, a few beach clubs, and lots of shops and restaurants.
If you are not staying on this side of Ibiza, we recommend planning a day trip to make your way over there as there is so much to see and do.
If you want to be away from high-traffic areas, consider staying in these charming, luxurious hotels nestled in the hidden gems in Ibiza!
Grupotel Ibiza Beach Resort
This 4-star adults-only resort is steps away from S'Arenal Petit Beach in Portinatx with 190 rooms, a lounge bar, a buffet restaurant, and two swimming pools. If you're looking for total relaxation, you're in luck!
Grupotel Ibiza Beach Resort offers a spa with a whirlpool, sauna, lumbar micro-massage, steam bath, and ice fountain. There are also extra beauty treatments offered at the front desk. These wellness services are much-needed after a long flight or that dreaded hangover the next morning. Just because the resort is in a quiet area surrounded by pinewoods, doesn't make it boring; they offer live entertainment 3 times a week!
La Pandilla Ibiza
A funky boutique hotel prides itself on being a creative oasis for guests, La Pandilla Ibiza has 10 casitas, one of which is only reserved for artist residencies. These casitas allow 1–10 guests, so whether you're traveling solo, as a couple, or with a family, you'll be able to find a comfy stay that suits your needs. All of the casitas are nestled in a vibrant garden by the pool.
La Pandilla offers fun and unique experiences such as boat trips, kayaking, yoga classes, and Land Rover tours. From the hotel, you can rent a bike for €5 for 2 hours. You can easily cycle to Ses Salines for a beachfront picnic from La Pandilla's bar stocked with sandwiches, snacks, and soft drinks.
There is also a cantina by the pool offering breakfast, lunch, dinner, and drinks all day. The menu serves a mix of American dishes such as chicken wings, burgers, and pancakes along with Spanish fare like croquetas, pimientos del padron, and bocadillo. You can either make reservations to eat in the cantina, order drinks to take by the pool, or pick up takeaway for the beach.
The Standard Ibiza
For a luxurious stay with a hint of nightlife, culinary experience, and outdoor excursions, you're going to want to make yourself at home at The Standard Ibiza. This 5-star hotel is near Ibiza Town but you can walk, bike, or drive to Talamanca Beach to relax or take a dip in the turquoise waters. The accommodations The Standard has to offer vary from standard rooms with king-sized beds to suites. If you are coming with a big group, you can also book one of the Casa Privadas, apartment-style suites with more than one bedroom.
The Standard has a rooftop pool (one of Ibiza's only ones) with a cocktail bar next to it, UP. On the ground floor, you can eat at Jara, The Standards' own cafe-style restaurant serving breakfast, drinks, and Spanish dishes all day. The activities The Standards offers are epic; through their concierge, you can rent a boat with your own skipper over Ibiza's waters. You can also fly on a hot air balloon, ride a motorcycle all over the town, go on a hike, or snorkel.
We have given you 7 hidden gems in Ibiza to add to your itinerary; some that will highlight why this Spanish island is one of the most beautiful destinations in the world.
To fully immerse yourself in Ibiza, it is best to visit for more than 4 days. This will give you the chance to see everything without rushing.
Enjoy!
Looking for other beachy destinations around the world? You might like:
Love what you read? Share the love!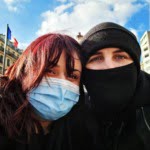 Georgia is the primary author of First Step: Europe, along with photographer Callum. It is a website focused on helping those who are visiting Europe for the first time, so they never go unprepared.