If you're dreaming of a West Coast getaway, consider Portland for your next destination. With delicious eateries on every corner, friendly locals, craft cocktails, funky shops, and nature all around, you're never going to get bored for 4 days in Portland.
Disclaimer: This post uses affiliate links, which means I make a commission if you book through this post. If you do decide to book using my links, thank you so much for your support!

Travel Portland has kindly gifted me and my husband Cecilio VIP Passes to the Portland Art Museum and tickets to the Underground Donut Tour.
Know Before You Go
Airport
The Portland International Airport (PDX) is the only airport you will need to take, located 20 minutes away from Downtown Portland.
Transportation and Parking
It's so easy to get around Portland, whether you decide to rent a car or not. As an environmentally conscious city, Portland has a robust transportation system, encouraging its residents to go green and reduce emissions from driving as much as possible.
The TriMet System
Portland boasts having some of the best public transportation called The TriMet, which includes the bus service, MAX Light Rail and Street Car. The fare is the same for all modes, which is $5 for adults all day, $2.50 for seniors/disabled/low-income residents, and $1.25 for children ages 7–17 (those younger than 7 ride for free).
Bicycles
There are no shortages of bike lanes and trails in Portland! Bike rentals are all around the city and maps to help you find your way around. There is also a bike-sharing service called Biketown, where you can rent any of the orange-branded bikes across downtown and surrounding neighborhoods.
E-Scooters
In addition to bike rentals, Portland offers electric scooter rentals through Lime, Bolt, and Spin. Like Biketown, Uber, and Lyft, all you need to do is download the provider app and unlock a scooter.
By car
Cecilio and I rented a car at Hertz through the PDX Airport. Portland has a parking meter service called Parking Kitty where you download the app, punch in the street zone you're on along with your license plate, and how long you are going to be parked. It's super easy to use and cheap too!
Where to Stay
We stayed in Dossier Hotel, a super cute boutique stay located at the edge of Pearl District. Our bed was spacious and comfy, with large windows overlooking the downtown skyscrapers. The lobby has chic decor that fits my aesthetic. It's also where the French restaurant, Bistro Alder, is located.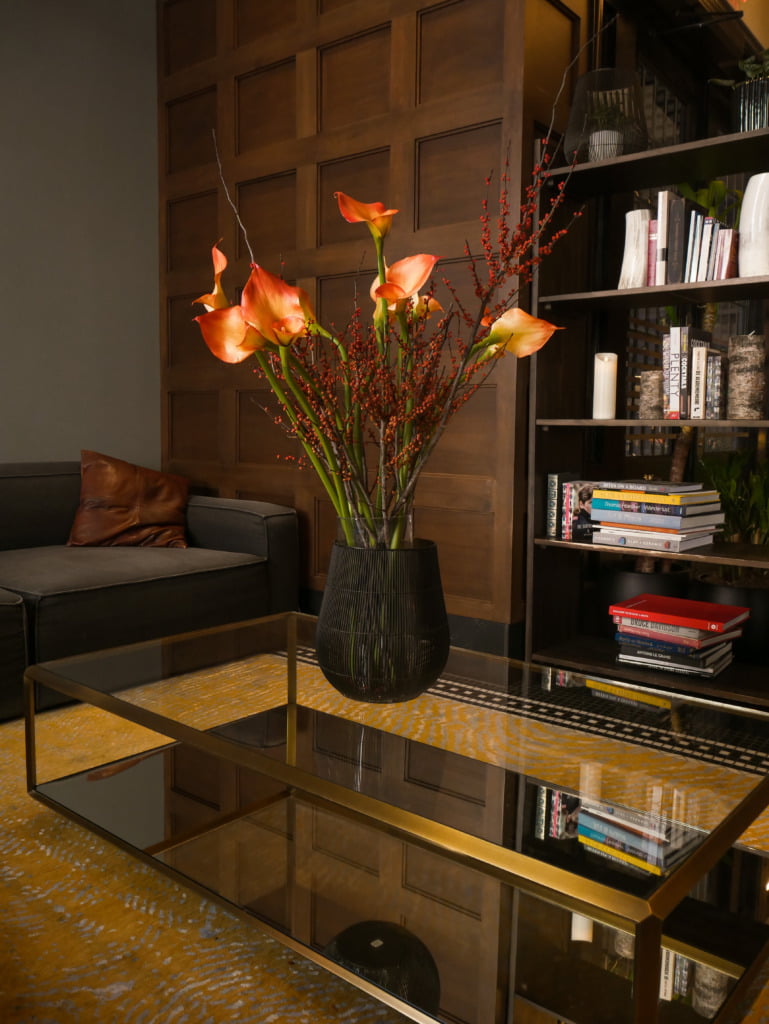 Is 4 days enough to spend in Portland?
4 days are more than enough time to spend in Portland! You can visit most of the major attractions, try an abundant amount of food carts, and even take a day trip during that time frame.
I only have 1-2 days in Portland. Is that enough time?
While you won't be able to see hit all of the attractions and food carts within a day or 2, you can still get a taste of what Portland has to offer. In fact, most people coming from Seattle take a day trip to Portland, which is a 3-hour drive both ways!
Your Itinerary for 4 Days in Portland
Day 1
Take a donut tour.
You've probably heard of Portland's ever-so-famous Voodoo Donuts, but there are also a handful of donut shops that deserve some love too!
Cecilio and I took the Underground Donut Tour, where we walked around Downtown Portland with a tour guide and stopped by four donut shops. I highly can't recommend this tour enough. Our guide, Ian, was super engaging and fun to talk to. I felt spoiled getting sample-sized bites without having to wait in line.
We went to Sesame Donuts, Coco Donuts, Toki, and Voodoo. As we were walking Ian showed us around with cool historical facts about Portland. We had our own personal guide while burning off all the calories we consumed!
Linner at a food cart
There are food carts/pods on every corner in Portland, and they are the center of the city's culinary scene. It's much more affordable than constantly having to dine at a sit-down restaurant too! Food carts come in all different cuisines, such as Mexican, Thai, Korean, Mediterranean, and many more! In fact, I recommend eating at a food cart everyday for lunch to save money and expose yourself to different dishes.
If you're already in Pioneer Square or Pearl District, I suggest going to the 3rd Avenue and 5th Avenue Food carts!
Cecilio and I ate at El Masry Egyptian Cuisine from the 3rd Avenue cart, and I ordered these delicious and spicy gyro fries!
Day 2
Morning java at Case Study Coffee
Start off your morning slow and easy with a cup of coffee and a pastry from Case Study Coffee, located all across Portland. Case Study roasts their own coffee sourced directly from farmers and makes their own syrup. We sipped our lattes before taking on the day, people-watching (with the people right next to us drawing manga comics).
Another reason to support Case Study Coffee? The Founder/Roaster is a woman, and I'm all about patronizing women, and I'm all about supporting women-owned businesses!
Portland Art Museum
It seems like every trip requires at least one museum visit. I recommend the Portland Art Museum, which has over 42,000 works of art, and centers on Native American, Pacific Northwest, Asian, and contemporary art. You can easily get lost here, marveling at all the artists' exhibitions and permanent pieces. From Ancient Greek pottery to 18th-century French oil paintings to contemporary relics, you'll find a bit of everything in the Portland Art Museum, nestled in one of the artsiest cities in the US.
Make a Wish at the Wishing Tree
Drive over to Williams District on the other side of the Willamette River to the Wishing Tree. This tree is rooted in a residential neighborhood right next to Portlander Nicole Helprin's home. In 2013, she wrote a few "wishes" on the tree with paper, a pen, and string before going on vacation.
Other neighbors took notice of the tree and started writing their own wishes, hanging them up as well.
Today? Tourists like myself trek to the Wishing Tree to write their own wishes! There are plastic bags filled with pens, small cardstock paper, and strings for you to write them out and hang them up. Don't forget to wish and pray for others' dreams to come true as well!
Lunch at Park the Carts
After making your wishes at the Wishing Tree, drive over to another food cart, Park the Carts, to try another cuisine for lunchtime. Unlike the downtown food carts, Park the Carts has a tent with benches, so the seating situation is much better. Park the Carts has Mexican, Thai, gyro, Japanese, Chinese, and a boba spot! I ordered this ramen with Korean bulgogi beef while Cecilio ordered a burrito from Ta Bueno Ne.
Afternoon coffee/happy hour at Cascadia Coffee
What can I say? Cecilio and I drank a copious amount of coffee in Portland. After all, Portland always ranks as a top coffee destination in the US. After a day of exploring what the city has to offer, it was nice to sit and sip at a coffee shop like Cascadia while he was creating TikTok videos and I was practicing drawing in my sketchbook. Not only does Cascadia have the usual coffee drinks, but they also offer java-inspired cocktails! You bet I did order an espresso martini!
Have a nice, sit-down dinner
While I have been talking mostly about the food carts, it's nice to have at least one dinner at a fancy-ish sit-down restaurant. And Portland, being ranked as the #1 foodie in the US according to WalletHub, has a ton of them.
Cecilio and I ate at Bistro Alder, a French/American brasserie since the restaurant is located in our hotel and we didn't have to drive anywhere. We ordered deviled eggs and a baguette for starters, while I had bouillabaisse and Cecilio had steak and fries. Dessert for us was beignets with ice cream! What I also liked about Bistro Alder was that they had mocktails for those who don't drink like Cecilio.
When we went to Portland last year, we ate at Café Nell, one of the best restaurants I've ever dined in. The food and drinks were top notch. I can't highly recommend them enough.
Day 3
Coffee and breakfast at Caffe Umbria
Fuel up for a long day; you're going to need it! Caffe Umbria is an Italian-inspired coffee shop offering different kinds of espresso drinks and FOOD! There was an abundance of food such as paninis, pastries, pasta, salads, and quiches (which we both had along with our lattes).
Chase Multnomah Falls
If you're spending a few days in Portland, you absolutely cannot miss Multnomah Falls, the tallest waterfall (at 620 feet) in Oregon (and the 2nd tallest waterfall in the US!). It's a part of the Columbia River Gorge, 30 minutes away from Portland. It's a two-tier waterfall on basalt cliffs, and most notable for Benson Bridge on the lower half of the fall. Walking across the bridge is a must for a different perspective and epic views. If you're more of the active type, you can hike up all the way to the top of the falls.
Multnomah Falls gets so packed during the warmer season from June–September, all visitors must reserve timed tickets. Since we went in March, we did not need to do that and the entrance was free.
If you have more time in Portland, I highly recommend exploring the rest of the Columbia River Gorge and chasing even more waterfalls!
Stroll through Pittock Mansion for a slice of history
If you're wondering how Portland morphed from a small pioneer town to the modern city it is today, look no further than Pittock Mansion. Built in 1909, this French chateau was home to Henry Pittock, a British-born American businessman and publisher who played a role in spearheading Portland's development.
At every nook and corner, you explore the different bedrooms, kitchens, living rooms, and of course, the grand staircase. Because it's located up on a hill, the large backyard has epic, sweeping views of Portland's skyscrapers and Mount Hood.
If you're going to Portland during the holidays, visiting Pittock Mansion during Christmastime is a must, since they deck out completely with Christmas trees and decor!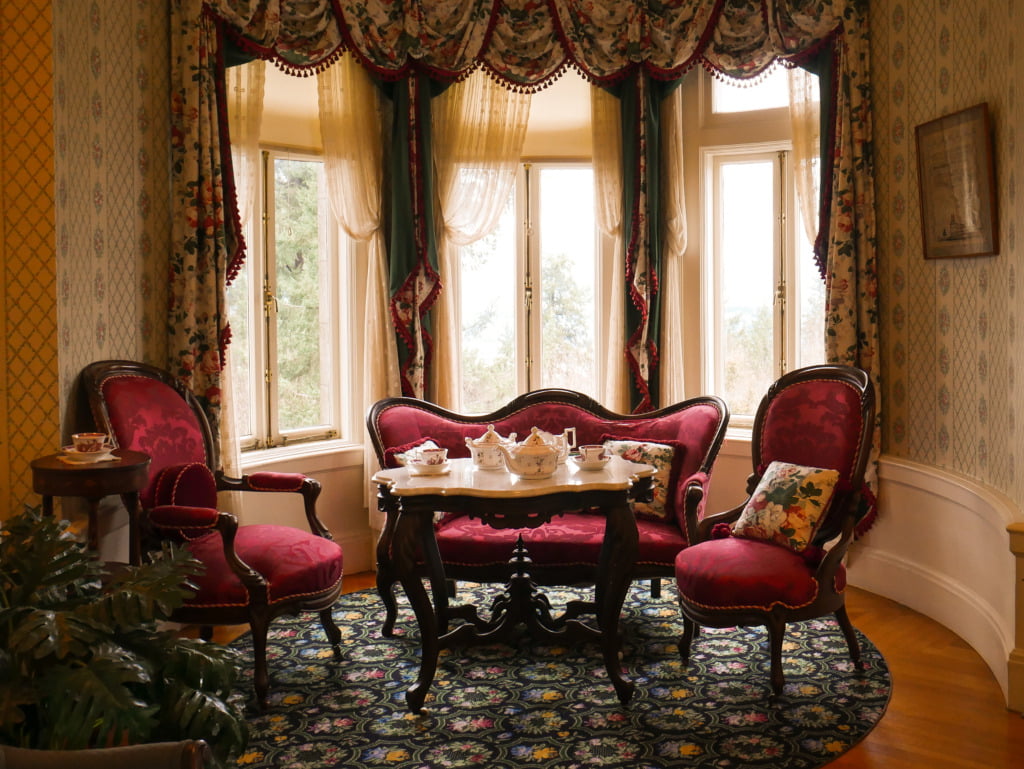 Lunch at Nob Hill Food Carts
When in Portland, you can never get tired of even more food carts! Nob Hill Food Carts is also another popular eatery in Northwest's Alphabet District with surrounding boutiques, hip apartments, coffee shops, and even more restaurants. But you can't miss the Nob Hill Food cart to sample some of the mouthwatering dishes from local businesses. They even have a beer stall, Pour House (which also serves wine and cider).
Cecilio ordered chicken wings, gyoza, and boba from Bobablastic, while I got malai kofta (an Indian dish with cheese, coconut milk, nuts, and tomatoes) from Dhaba Indian Kitchen. It sure hit the spot for both of us!
Day trip to Cannon Beach
It's not too late to squeeze in a day trip to Cannon Beach, considering that it is only an hour away from Portland! There's nothing quite like Oregon'a coastal charm, even if you can't swim there. But if you are lucky, you might be able to catch the glowing sunsets on a good day. Unfortunately, it was cloudy on the day we visited, and started to rain heavily as we were waiting for a sunset.
But it sure didn't stop us from having fun! Marvel at Haystack Rock, the third tallest intertidal structure in the world. It was filmed in the background of the opening scene from the popular 80's movie, The Goonies. As you get closer to Haystack Rock and the shore, you'll come across tidepools housing starfish, anemones, mussels, and even crabs!
If you have more time in Portland and want to spend a few days venturing beyond, check out this Oregon coast itinerary which includes Cannon Beach, Astoria, and more!
Day 4
Coffee at Coco Donuts
Spend your last morning with donuts and freshly brewed coffee at Coco Donuts, in multiple locations across Portland. Coco Donuts was my favorite stop during our donut tour on the first day, so I knew I wanted to go back and get the ube mochi donut we tasted. Coco Donuts also brews its own coffee, offering the standard drinks along with its own seasonal specialty lattes.
Lunch at Sizzle Pie
Since our last day in Portland will be spent in Powell's Books, consider stopping at Sizzle Pie for a slice of pizza for lunch. They serve only the best and freshest ingredients. That whiff of freshly baked dough, gooey cheese, and roasted garlic is enough to tantalize you as you walk in the door. Whether you are a total carnivore, vegetarian, or vegan, Sizzle Pie has a slice for everyone. I got a vegetarian and a vegan slice; I could've done without the vegan slice since I found it too creamy for my preference (not sure how that's possible). Other than that, Sizzle Pie's pizzas are to die for, and the closest you get to a New York-style slice without having to fly all the way to the other side of the country.
Stroll through Powell's Books
Known as the largest used and new bookstore in the world, walking through Powell's Books feels like a maze. But it's so organized that the store designates each genre of books to a specific color-coded room: for example, the Rose Room will have children's and YA books, books about pets, along with games and trivia. The Red Room's genres consist of history, travel, military, gender studies, politics, and nature. Powell's Books have 9 color-coded rooms dedicated to specific genres.
Once you've walked through every corner of Powell's Books, go look for Guilder Café, the Princess Bride-themed coffee shop. It's a great place to order a latte, read, draw, chill on the bleacher-style seats, and people-watch. The huge windows give beautiful natural light on a sunny day.
Other things to do in Portland
This guide is very fluid and based on what Cecilio and I did during our stay. There are so many other sights and attractions for 4 days in Portland. If none of the above pique your interest, you can switch them out for the following:
More Resources for Portland and the Pacific Northwest
Hannah is a travel writer, graphic designer, and the founder/editor of Hannah on Horizon. She is based in Sacramento, California, living with her husband and two adorable dogs. She shares tips on how to experience luxury travel on any budget, and how to maximize time at each trip or destination, no matter what your budget or amount of vacation time at work. She enjoys making you feel like you have visited each destination with her through her storytelling and informative writing style.