You're probably wanting to visit Hawaii for some fun in the sun and relaxation. But if you find yourself in Honolulu, Hawaii's capital city located on the island of Oahu, make sure to visit Pearl Harbor National Memorial to learn about the tragedy that killed thousands of American soldiers and civilians, eventually spurring the U.S. into a part of World War II.
Disclaimer: This post uses affiliate links, which means I make a commission if you book through this post. If you do decide to book using my links, thank you so much for your support!
Visiting Pearl Harbor: Know Before You Go
Parking
Effective April 23, 2023, the parking lot at Pearl Harbor is $7/day, which you can pay through an app or a kiosk at the visitor's center.
Admission
Admission to Pearl Harbor Visitor Center and the museums are completely free.
There is also no entry fee to visit USS Arizona Memorial. However, it is difficult to make reservations online. They are only released 24 hours and 8 weeks in advance. And there are only a very limited amount of tickets offered during those open windows. Otherwise, you will need to visit Pearl Harbor in person and wait in standby line to visit USS Arizona. Depending on what time you arrive and what month, expect to wait 30 minutes to two hours before your line group is allowed to enter. The earlier you arrive, the better.
If you still want to try getting reservations for USS Arizona, you can get the tickets on Recreation.gov!
RELATED: Planning a trip to Oahu, Hawaii? Check out more resources to help you plan smoothly!

18 Fun Things to do in Oahu for 4 Days
Manoa Chocolate Tour & Tasting
Shoreline Waikiki Hotel Review
Don't Make These 9 Mistakes I Made in Oahu
Oaho vs. Maui: Which Hawaiian Island Should Be Your Next Beach Getaway?
Frequently Asked Questions
How much time do you need to see Pearl Harbor?
It depends. If you want to visit USS Arizona Memorial, you need to buffer a couple of hours just to wait in line if you weren't able to reserve tickets online. Walking through USS Arizona Memorial itself takes about an hour (excluding the ferry ride to and back).
If you want to visit other sites in Pearl Harbor such as USS Missouri, USS Bowfin Submarine Museum, and/or Pearl Harbor Aviation Museum, you will need to add in a few extra hours.
Does visiting Pearl Harbor require a dress code?
Casual/smart casual is fine out of respect for the site and the deceased. I wore a white maxi dress while Cecilio wore a long-sleeved polo shirt and pants. But we saw a lot of other people wearing T-shirts and shorts. That is fine too; just don't walk in looking like you came from the beach (ex: don't come in shirtless or with a bikini top!). Definitely do not wear any t-shirts that have offensive or graphic material (especially if it's anti-military…why would you be even visiting in the first place?)
Can you visit Pearl Harbor without a tour?
A tour is not required to visit Pearl Harbor. However, there are some private tour companies that provide guided tours to Pearl Harbor, some of which include a tour to Honolulu. You pay for transportation (to get picked up/dropped off at your hotel), extra excursions, lunch, etc.
How to visit Pearl Harbor
By car
If you're coming from Honolulu, it's pretty easy to drive to Pearl Harbor. It's about a 20-minute drive, and you jut take I-H-W, then eventually HI-99.
Are you coming from Kapolei/Ko Olina? Go the opposite way and take I-H-E!
If you are heading from Kaneohe/Kailua, take I-H-3 W all the way.
Finally, if you are coming from North Shore, drive on I-H-2 S.
TheBus
TheBus is Oahu's public transportation system and 108 routes and 3,788 stops all over the island. Bus fare is $3, with the maximum being $7.50 (after that, you no longer need to pay). Children 5 years and younger ride for free.
You could also purchase the HOLO Card for only $2 and load it up as you go. They are available for purchase at 7-11, ABC Market, and other supermarkets.
Here are a list of TheBus' routes, and look for the ones that take you to Pearl Harbor!
With a tour
Here are some highly-rated tours I would recommend to save you time and gas!
Pearl Harbor City Tour: This 5-hour tour includes admission to Pearl Harbor and USS Arizona Memorial. You also visit sites of Historic Downtown Honolulu such as King Kamehameha Statue, Hawaii State Capitol, and Iolani Palace. If you decide to book this tour, it will show you pick-up points from different hotels in Waikiki.
Pearl Harbor Passport "A Complete Experience": At $249, this tour is on the pricier side. BUT it guarantees admission to USS Bowfin, USS Missouri, and Pearl Harbor Aviation Museum without having to buy tickets separately. It also includes pick-up/drop-off at your hotel.
Complete Pearl Harbor Deluxe Adventure Tour w/ Lunch: Similar to the Pearl Harbor Passport Tour, but lunch is provided!
From another island
I'm going to let you in on a little secret…you don't have to stay in Oahu in order to visit Pearl Harbor! There are so many island hopping tours from Maui, Big Island, and Kauai that take you to Oahu, and most of them are tailored for you to visit Pearl Harbor! Here are a list of tours, depending on which island you are based:
History of Pearl Harbor
On the morning of December 7, 1941, Japanese military forces dropped a surprise military strike on Pearl Harbor, a U.S. naval base. As a result, the attack damaged 19 U.S. Navy ships (including 8 battleships), about 300 airplanes, and killed over 2,400 people (a small portion including civilians) while wounding 1,000 others.
The attack on Pearl Harbor was a turning point for the U.S. to declare war on Japan, officially entering World War II (as declared by President Franklin D. Roosevelt).
Before the attack on Pearl Harbor, the U.S. was predominantly a neutral country when it came to matters of war. But tensions have been rising between the U.S. and Japan for years. The Japanese military had plans to expand to China and Southeast Asia in order to use their oil to help fuel Japan's fleet.
In 1937, Japan declared war against China in order to tap into the Chinese market. The U.S. government was very much against this and against Japan's plans to expand into Southeast Asia.
This caused strife between the U.S. and Japan. The attack on Pearl Harbor was preventative, as the Japanese military was afraid that the U.S. would bring its soldiers over to Southeast Asian countries to interfere and defend the lands. Because of this, the attack on Pearl Harbor was considered preventative on Japan's part.
About USS Arizona
USS Arizona (BB-39) is one of four battleships that sunk during Japan's attack on Pearl Harbor. The ship was struck by torpedo planes and bombers, causing over 1,100 fatalities. While some parts of Arizona floated back to the top, for the most part, the ship completely sunk and was unsalvageable (unlike the other ships that sank). In early 1942, USS Arizona has deemed a lost cause and was deleted from the Navy's register. While some of the deceased bodies have been retrieved, over 900 of the rest have been left to decompose in the water.
In 1958, there was a legislative proposal called for a memorial dedicated to USS Arizona. The money was raised through donations and Elvis Presley hosting a benefit concert in Pearl Harbor. Eventually, construction for USS Arizona started in 1960 and became completed in 1962.
Today, there are about 4,000 daily visitors to Pearl Harbor or 1.7 million yearly.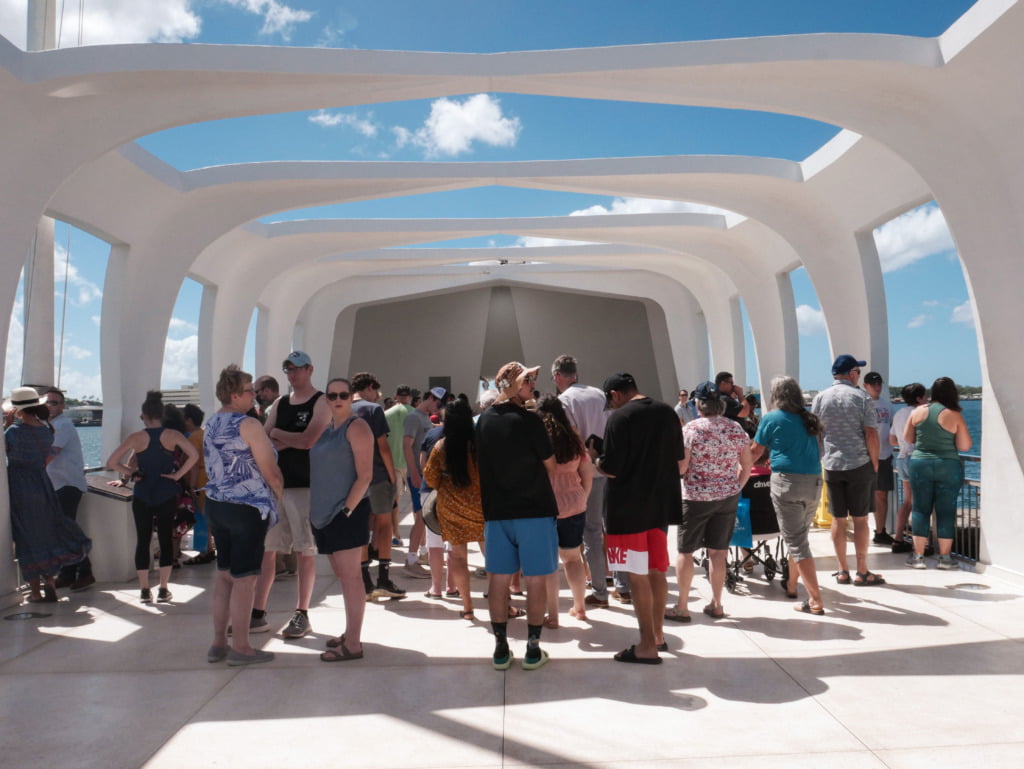 Visiting Pearl Harbor: What it's like
Upon arriving at Pearl Harbor visitor center, you'll walk into an open-air quad with palm trees perfectly lined. The quad is surrounded by museums, a gift shop, other battleships, and the entrance building to USS Arizona.
One of the most moving parts of visiting Pearl Harbor (aside from the names of the deceased engraved in USS Arizona) is seeing plaques with quotes or poems referring to that tragic day, the day of the attack.
This plaque inscribes a poem found in Former First Lady Eleanor Roosevelt's wallet during World War II. The plaque overlooks USS Arizona Memorial.
Visiting USS Arizona Memorial
As I mentioned above, if you are unable to get reservations to USS Arizona Memorial online, you are going to have to walk in and be on standby. You will get to go visit USS Arizona Memorial no matter what, but you are going to have to wait between 30 minutes to an hour or two. Security groups a handful of people at a time to enter the boat, and you might be unlucky to not make the cut and wait an extra half hour for your turn.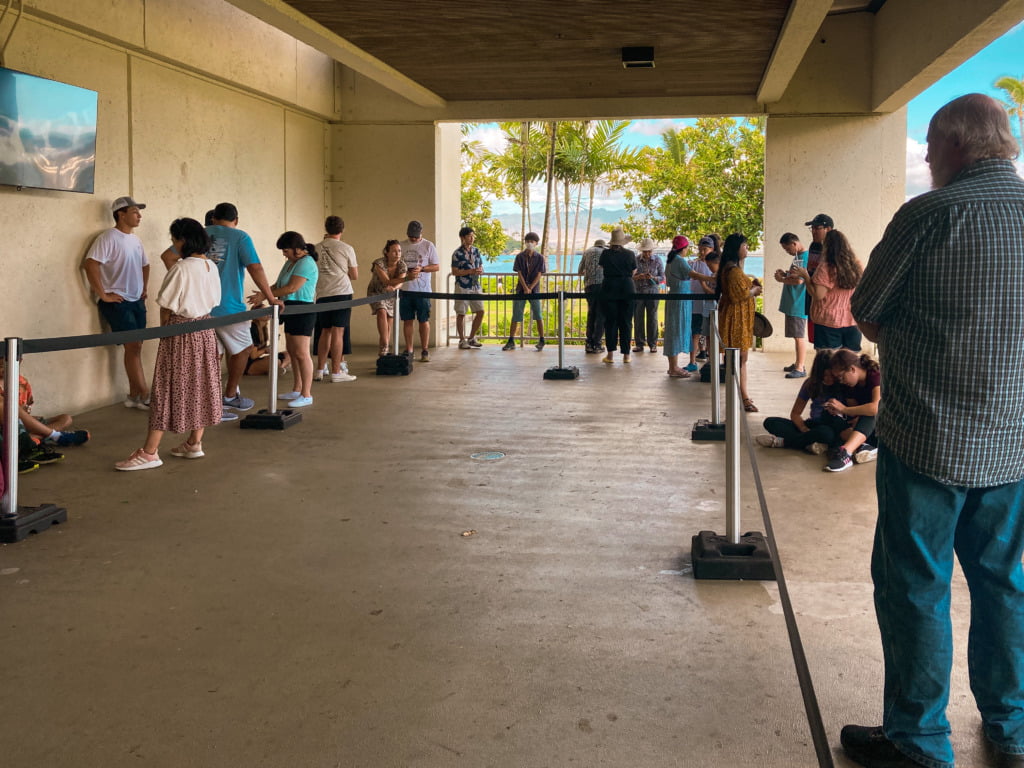 Once security gives you the okay to enter, you and your group hop on a small boat on the way to USS Arizona Memorial.
USS Arizona Memorial Design
The Memorial building was designed by Austrian-born, Honolulu-based architect, Alfred Preis. He was detained at Sand Island due to Austria being an enemy of the US during the war.
USS Arizona's design is shaped like a slope, with a peak at both ends. The concept of this design is that the center of the building dips, meaning that the war represented grief and defeat. The peaks on both ends represent victory and overcoming hardships.
The USS Arizona Memorial building is 184 feet wide and built to accommodate 200 people. It also sits right above the sunken ship itself.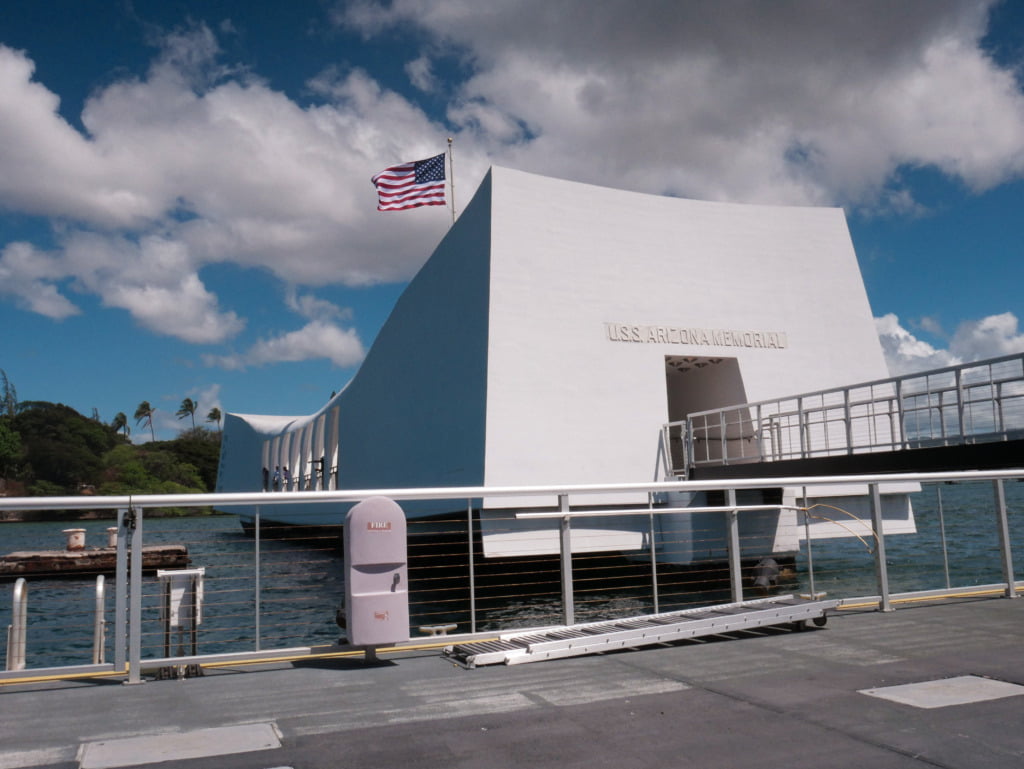 USS Arizona Memorial Wall
The most impactful part of visiting Pearl Harbor was seeing the USS Arizona Memorial Wall. This marble wall listed all 1,100+ of those who died in the attack, with the majority being from the US Navy and a portion from the Marine Corps. It just moved me so much knowing they did their best to fight back, and the next thing you know, they're gone.
It made me mourn over the lives they could've lived had Pearl Harbor never been bombed. I always wondered; did they have spouses and children waiting for them? What would life have been like meeting their grandchildren, or living in a modern world with more advanced technology?
There are so many unanswered questions from their families to the visitors.
This hits home for Cecilio as well. His grandfather served in the Korean War in the US Army, while his dad was in the Marine Corps. While they were too young to have served in World War II (Cecilio's dad wasn't even born yet!), it hits home because of all of their connections to the military. Not to mention, my stepdad was in the US Navy (though he was born in 1964; too young for even the Vietnam War!).
Oil leaks, or Arizona's tears?
To this day, the USS Arizona leaks oil from the ship's tanks. It's been rumored to leak up to a gallon of oil a day and has leaked around 14,000–64,000 gallons since the attack. There are approximately 500,000 gallons left, and the National Park Service states that the leakage can still last up to 500 years.
The oil leaks are also nicknamed "Arizona's tears" or "black tears" because of the damage done to the ship over 70 years ago. To think that 70 years feels like a long time ago yet the oil is still leaking feels like a long time, but the fact that it will remain that way for 500 years is just mind-boggling. It's hard to grasp the concept of time witnessing and knowing that fact.
There's been a lot of debate about whether the oil should be removed or left alone. Those who oppose it say that it will cause even more environmental damage, and it's more expensive to do. Additionally, extracting the oil would damage the USS Arizona ship, which serves as a tomb for the deceased inside.
Pearl Harbor Exhibit Galleries
Right next to the Visitor Center are two exhibit galleries you need to check out, called Road to War and Attack. This is free to enter, and something I would highly recommend visiting; you'll see relics from the attack like a Navy uniform, a model of the USS Arizona ship, maps, and bombs. Seeing these physical items as a part of the attack makes it feel even more real to you.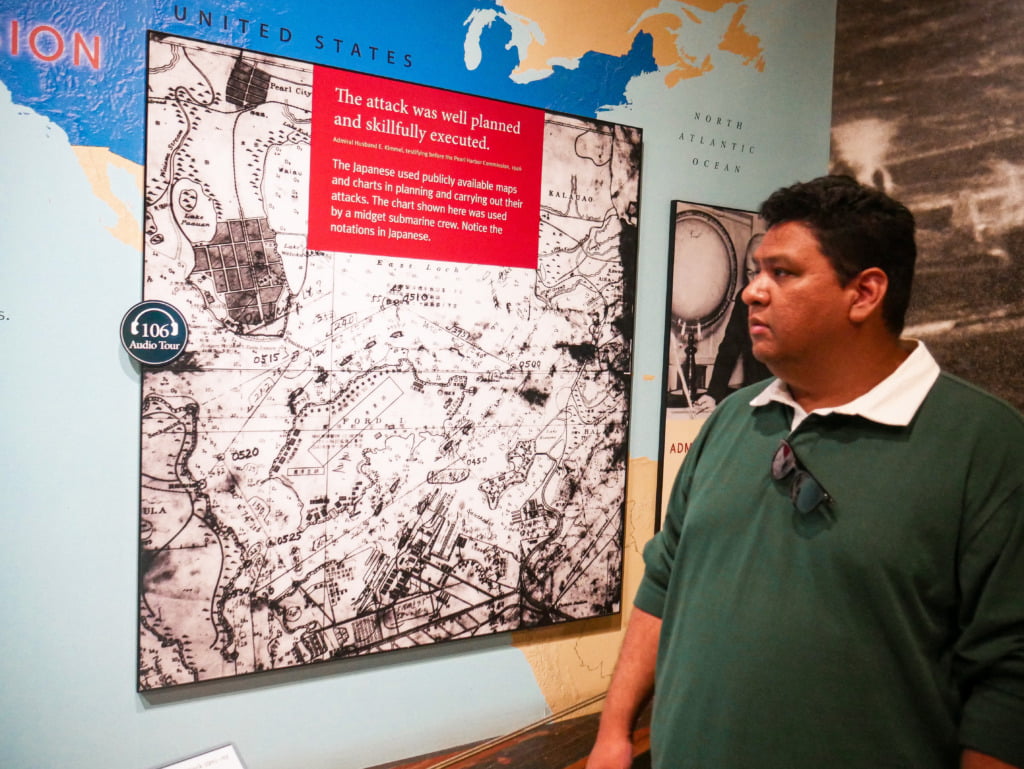 Other sites in Pearl Harbor
While I mostly highlighted Pearl Harbor's visitor center and USS Arizona Memorial, there are other sites and museums to check out if you have more time and if they pique your interest, although you will have to pay for them.
USS Missouri
The USS Missouri (BB-63, also known as "The Mighty Mo") was the last battleship built for the U.S. Navy. It was completed in 1944, and helped formally end World War II in 1945. USS Missori was still used for training afterward and during the Korean War.
General Admission: $34.99 (Adults), $17.49 (Children ages 4–12)
Pearl Harbor Aviation Museum
The Pearl Harbor Aviation Museum features military aircrafts used in World War II, Korean War, Vietnam War, and beyond. There are also interactive games for children, and the museum has a restaurant if you're feeling a bit hungry.
General Admission: $25.99 (Adults), $14.99 (Children ages 4–12)
The USS Bowfin and the Pacific Fleet Submarine Museum
USS Bowfin launched exactly a year after the Japanese attacked Pearl Harbor. She was known as the "Pearl Harbor Avenger", symbolizing perseverance The ship features artifacts, posters, audio, and a memorial honoring 52 American and over 3,000 international submarines who died from World War II. She also served in the Korean War.
General Admission: $21.99 (Adults), $12.99 (Children ages 4–12)
Overall Thoughts
Not only is a visit to Pearl Harbor a must-do, it's also educational and helps you to really understand what the soldiers went through during World War II, as everything is right there in your face. If you plan on going to Oahu (or even island hopping there from Maui, Big Island, or Kauai!), make sure to squeeze some time to honor those who perished during the Pearl Harbor attack.
Hannah is a travel writer, graphic designer, and the founder/editor of Hannah on Horizon. She is based in Sacramento, California, living with her husband and two adorable dogs. She shares tips on how to experience luxury travel on any budget, and how to maximize time at each trip or destination, no matter what your budget or amount of vacation time at work. She enjoys making you feel like you have visited each destination with her through her storytelling and informative writing style.