Three weeks ago, I found myself in Kansas City for the Women in Travel Summit (WITS). WITS is an annual travel conference hosted by Wanderful, an organization that nurtures and empowers female travel creators and connects them with brands and organizations in the travel/hospitality industry. This was the first travel conference I ever attended, and the first one WITS hosted in 2 years since the pandemic. I learned so much over the past few days and met driven, smart, women who are passionate about travel and exploring the world like I do.
Why I wanted to attend Women in Travel Summit
Over the last 2 years, I've felt really discouraged by the state of the world and I wasn't sure that I wanted to continue blogging and creating content. I honestly thought things were never going to get better and open up. But the beginning of 2022 started feeling more hopeful, and when I booked a surprise trip for Cecilio and me to go to Seattle for our anniversary, I started feeling encouraged to revive and grow this blog.
In fact, I found out about WITS during that Seattle trip. I was in the hotel bathroom scrolling and reading about WITS, signed up to be a Wanderful member, and I told Cecilio during dinner in Portland that I wanted to go to WITS. He encouraged and supported me to go. I just needed to get the ticket, hotel + airfare booked, and work time off approved.
I wanted to go to WITS as a way to network and meet brands to work with, especially tourism boards. I also sought to make new friends in the travel space. WITS provided all of that, in addition to learning opportunities such as sessions, workshops, and 1-on-1 mentor sessions.
There were also opportunities to go on activity tours and FAM (familiarization) trips, which is kinda like a press trip. These tours provided a chance for you to get to know the city and what it's known for, and of course, content for social media.
Networking and mingling with other creators were encouraged, which was why WITS also hosted a Happy Hour. You get to know the ladies during tours and on social media before arriving, and then you eventually click and go out to dinner and drinks with them.
Women in Travel Summit Admission
For creators, admission to WITS is $399, with an extra $100 if you want to sign up for a blogging beginner bootcamp. If the cost of this sounds intimidating, don't worry, because sometimes Wanderful hosts sales for about $100 off. There are also creators who register but for some reason at the last minute can't attend. The tickets are transferable and they can sell them to you at a slight discount.
WITS is going to Puerto Rico in 2023, and they are offering $100 off if you register here with the code "EARLYBIRD".
And there are opportunities to get a WITS ticket for free by volunteering! I volunteered to help with social media (managing Twitter and doing an Instagram takeover) under Christine Lozada, the Social Media Director (and drone queen). As the date gets closer, the volunteer applications open up, so I applied. Christine reached out to me on IG and told me she loved my feed and offered me the opportunity to be a volunteer, which granted me that free admission. Depending on what you volunteer for, the process is different.
WITS also offers a scholarship for underrepresented individuals in partnership with Mediavine, so as the date gets closer, the application for that opens up so if you feel like you're qualified, don't miss out on it!
What to expect at Women in Travel Summit
Making new friends
You meet so many ladies, and after small talk, you get to know them and eventually it feels like you have known them your whole life. That's how it felt when I might new faces, but I will have to admit that there were times that I struggled and held back from my shyness and me feeling awkward and anxious, worrying in the back of my head that they don't actually like me and that I'm just kinda there (even though deep down I know that's not true). That's a lie that your mind tells you, and you just gotta fight that and find your people.
Networking opportunities
There are so many brands and tourism boards with their booths, and you can walk up to them and introduce yourself. WITS also had a Media Marketplace all day, the day before the conference, which is kinda like a job fair between creators and brands. You get to know the brands you want to partner with, and you get a feel of what they are looking for in terms of working with creators. If you didn't go to Media Marketplace, there was a much more condensed version called the Power Networking, where you met with a brand and talked to them for 15 minutes before moving on to the next brand.
Learning through sessions
A big part of WITS was the sessions in the form of workshops and lectures, ranging in topics from how to grow your blog through SEO (or Tiktok) to improving your photography/video skills to being a responsible/ethical traveler.
Ethical travel has been a HUGE emphasis at WITS because as creators, we need to set a good example to our audience when we are traveling—that means no leaving trash, no acting entitled, no partaking activities with wild animals that are being exploited, etc. We need to leave a destination better than we have found it.
I didn't go to all the sessions but that's because they are recorded for attendees to watch later.
Be sure to bring a notebook and pen to take notes!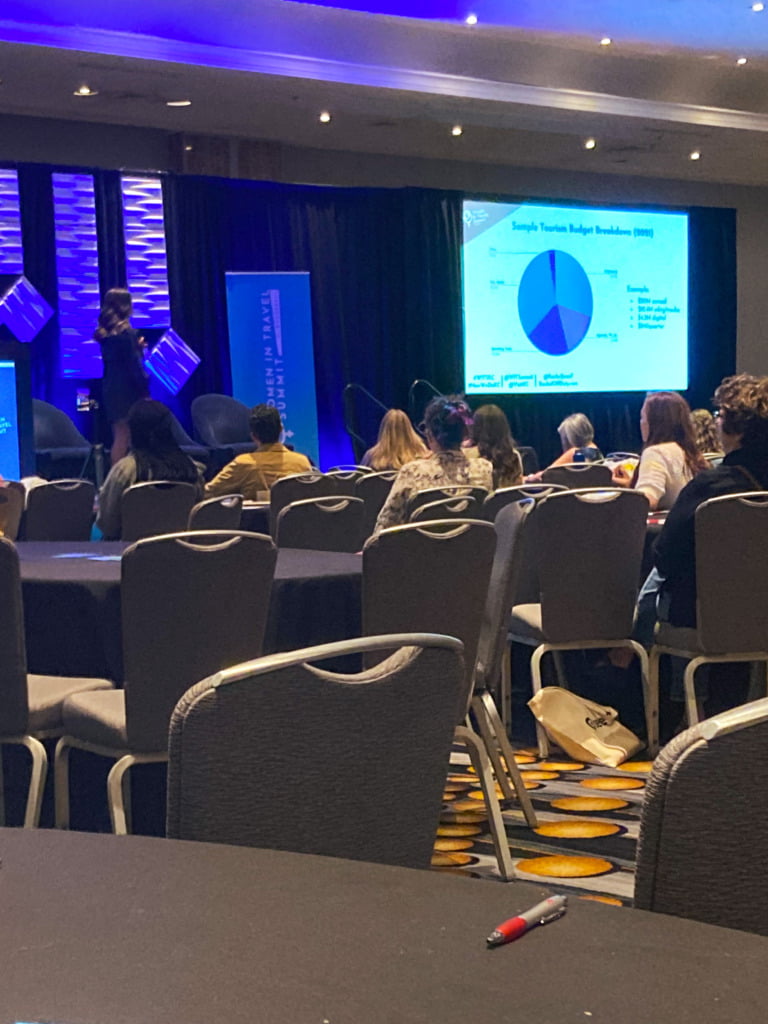 1-on-1 Mentor sessions
If you are looking for more in-depth guidance, I highly recommend setting up an appointment with a mentor for an hour-long session. Mentors consist of other bloggers, creators, photographers, journalists, and professionals in the industry. They will help give you advice on what you can do to grow as a creator and work towards your goals.
You pay separately for a mentor session, and they charge different prices. I think it's worth it because their advice is priceless, especially when they have the experience, knowledge, and wisdom to help you with your goals.
I did a mentor session with Rachel from Rachel Off Duty, because she resonated with me as a travel blogger who was able to work with a lot of tourism boards and brands without quitting her job (we also were able to find a common ground with our Filipino heritage). As much as I would love to be a full-time travel creator, it's unrealistic for most people like myself. Rachel has shown me it is possible to travel the world while getting around my limited vacation time. She helped me with my niche, which going forward will be helping women travel with chronic illness and/or full-time jobs. Rachel also gave me advice on how I can eventually build up to partnering with hotels and tourism boards since that's a goal I've had for the longest time.
I also did another session with Kim, the founder of SoloTvrlr based on her background as a designer. I shared with her that I want to fuse my design background in the travel industry while showing her this blog along with my design portfolio. Kim gave me solid advice on how to pitch to travel brands in exchange for design work and how to lay out both websites to attract potential clients in the travel industry.
If you want to work your way in the industry, learn from the best.
Tours and FAM trips
WITS gives you a chance to get to know the city and its surrounding areas through tours and FAM tips. Since it was in Kansas City, they offered tours such as BBQ and coffee tasting, museums, art walks, and trips to the Kansas stateline. Tours were about 2—4 hours long. I got to go on a coffee tour, check out the Country Club Plaza Market, and cross over to the Kansas stateline visiting Overland Park and Kansas City in Kansas (I know this is confusing…but there are two separate Kansas Cities, in the states of Kansas and Missouri). Thanks to these tours, I was able to learn and experience what makes the city unique and create content for my Kansas City guide.
A FAM trip, short for "familiarization" is kinda like a press trip but the purpose is for media, bloggers, and creators to get to know a particular city (or activity) and promote them. WITS had FAM trips in Wichita and Lawrence, two cities in the Kansas stateline. Unlike the typical tours, the FAM trips are a few days long and you do have to apply and get accepted to it. I only learned about FAM tour right as I signed up for WITS, and the deadline passed by that time. Plus, I had limited vacation time at work so I couldn't go even if I applied. I definitely want to go on a FAM trip eventually, whether it's at WITS or TBEX (another travel conference I'm interested in attending next year).
Tips for your first Women in Travel Summit
Check an extra bag (in addition to your carry-on luggage)
Maybe it's the overpacker in me, but I stuffed everything I could borrowing Cecilio's carry-on suitcase along with my personal item, and I still struggled lugging around everything. I even ended up ripping the suitcase on my way home (sorry love).
Packing for a conference is slightly different from a typical trip because you have to pack your laptop (and other electronic devices), your business cards, business clothes for networking, casual clothes for exploring, and flashy clothes for nights out. You also end up shopping and getting a swag bag at the conference (along with cool stuff from the sponsor booths). All that adds up in your luggage. I would've done things differently by checking in another suitcase even if I had to pay extra. It would've made navigating the airports so much smoother.
Try to stay in the conference hotel.
I knew some people who stayed in different hotels, but I opted to stay in Kansas City Downtown Marriott, the hotel that hosted WITS. Not only did Wanderful block a bunch of rooms for attendees for a discount, it made it so much easier for me to go back upstairs to my room when I needed to get ready, drop off my stuff, or even just decompress.
During conference days, you're constantly on the go, and just needing to take an elevator straight to your room makes things so much easier.
Bring your business cards and a media kit
When meeting brand reps, you're going to want them to remember you. The easiest way to do that is through a business card with your blog name, URL, and social media handles. You can design them on Vista Print or Moo, then print them or upload an existing design. I designed my business cards on Adobe Illustrator and uploaded them on Vista Print.
A media kit is important for brands so they can see your stats and what services you offer. Honestly, I made my media kit last minute because I was so afraid that brands wouldn't want to work with me because of my stats. I went ahead and still did it, and found that some brands were still interested in working with me (maybe not the tourism boards yet, but that is something I am working towards 🙂 )
If you are interested in starting a travel blog or business, I now offer branding design services personalized for you. That includes a logo, color scheme, and assets including a business card and/or media kit.
Put yourself out there and overcome your shyness
It's easier said than done. I met so many great women and had memories to last a lifetime, but I also struggled and held back a little bit when in conversation or going out. I was worried about coming across as awkward, feeling super self-conscious, and worried about people not liking me. If you've ever felt anxious about that, you are not alone. I see you and feel you. Just know that there are so many others who feel the same as you, and all it takes is a smile, introduction, and small talk to brighten up someone's day. It's not high school anymore, and no one singles anyone out on purpose. Like I mentioned above, you will find your people who you instantly click with (For me, it was Sarah from Creative & Ambitious and Chrissy from Destined Globetrotter).
If you can't attend all the sessions you want, watch them later.
All sessions are live-streamed for you to watch later. This is especially helpful if there were two sessions you wanted to attend but they happened to be on the same time and same day. Or if you went out exploring or slept in.
Now, I'm not saying don't go to ANY of the sessions in person. You absolutely should attend and take notes while everything is fresh in your mind for you to refer back to later. But sometimes missing one can't be avoided, and you can always watch it later at your convenience with your notebook, PJs and wine 😉
Bring more than 1 portable charger
When you're taking a lot of photos and videos, especially as a content creator, your phone battery dies fast. A portable charger is essential, but even those run out of juice eventually. This is where I highly recommend buying a 2nd (or 3rd) charger as a backup and storing it in your purse. I packed 3 portable chargers, although I ended up only needing two. And don't forget the chargers for those chargers!
Don't forget to have fun!
This is the most important part. You're exploring a new destination, meeting like-minded people, and learning from the pros. All of this comes from a love of travel, storytelling, and making something of it. If you're not having fun, why are you wasting your time?
If you are thinking of going to WITS or any travel blogging conference sometime in the future, be sure to save, pin, and share this post for reference!
Hannah is a travel writer, graphic designer, and the founder/editor of Hannah on Horizon. She is based in Sacramento, California, living with her husband and two adorable dogs. She shares tips on how to experience luxury travel on any budget, and how to maximize time at each trip or destination, no matter what your budget or amount of vacation time at work. She enjoys making you feel like you have visited each destination with her through her storytelling and informative writing style.