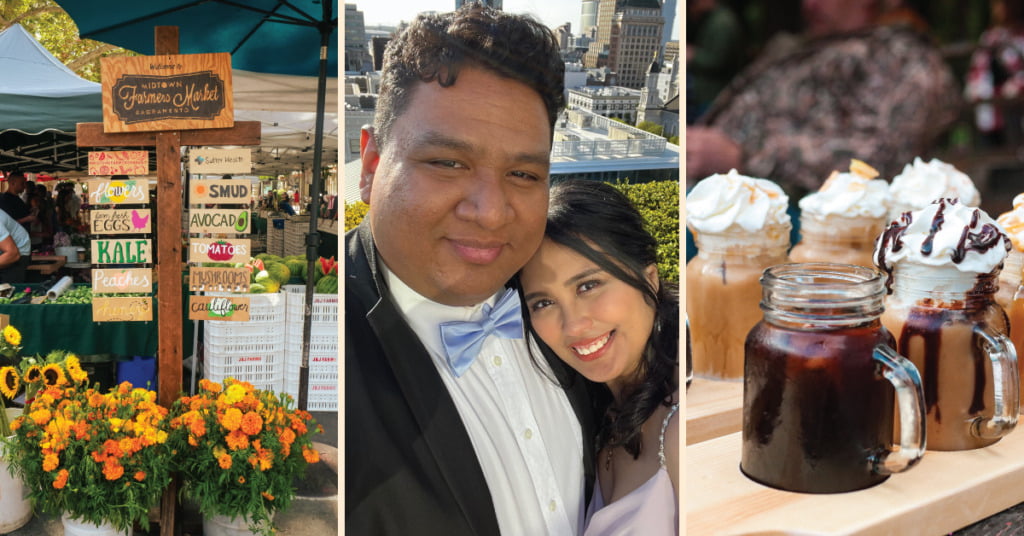 When you think of Sacramento, images of government buildings (including the State Capitol) and historical attractions from the Gold Rush era pop into your head. But beyond that, Sacramento is a charming city filled with cute sidewalks, coffee shops, delicious eateries (there's a reason they're the Farm-to-Fork capital!), and access to outdoor activities in the epic foothills or mountains. Did I mention we have a bustling art scene? Everything I've listed makes Sacramento the ideal destination for couples.
There are an endless amount of date ideas in Sacramento no matter what your interests may lie. Whether you're a big-time foodie, sports freak (Sacramento Kings fans are some of the most rabid in the NBA), art lover, or thrill seeker…you and your boo will have a magical time in California's capital.
I've lived in the Sacramento area for 20+ years, and met my husband, Cecilio, at one of the local community colleges before he transferred to UC Davis and I to Sac State. We're familiar with everything this city offers, especially the restaurant scene. We've visited so many attractions and there are new ones we are just discovering. Let me be your personal tour guide and show you the best date ideas in Sacramento.
I'm going to break down this guide into the following categories:
Free/Cheap Date Ideas
Active Date Ideas
Food & Drink Date Ideas
Unique Date Ideas
Cultural Date Ideas
Romantic Day Trips From Sacramento
Disclaimer: This post uses affiliate links, which means I make a commission if you book through this post. If you do decide to book using my links, thank you so much for your support!
Romantic Things to Do in Sacramento
Free/Cheap Date Ideas in Sacramento
Picnic at Land Park
Land Park is a gorgeous 166-acre park filled with greenery, ponds, and jogging trails. It's home to Fairytale Town (a park for kids) and a golf course, an amphitheater, and located right next to the Sacramento Zoo. There's no better place to go for a picnic than Land Park; I suggest doing so in the fall because winters bring frigid temperatures and rainstorms, spring is peak allergy season, and Sacramento summers make you feel like you're in the pits of Hell. Also, the fall foliage is just utterly gorgeous.
There are ducks, geese, and swans hanging out by the pond that you can watch and feed, as long as it's not bread, and instead, corn, veggies, and rice. So grab your blanket, a basket, and whip out a charcuterie board for two!
Old Sacramento
I know, I know…Old Sacramento is our biggest tourist spot, but it's worth visiting for a reason! Old Sacramento transports you back to how the city used to look prior to the floods. There are so many dessert spots and unique gift stores.
You can even take a river cruise down the Sacramento River passing by Tower Bridge. Or you can go to the California State Railroad Museum and take a luxury train ride from the museum through the city!
Stroll through the Midtown Farmers' Market
The Midtown Farmers' Market is Sacramento's biggest farmers market (and one of the best in California) and shows you the full Farm-to-Fork experience. Hundreds of vendors line up every Saturday morning to sell fresh produce, eggs, meats, honey, pastries, bread, flowers, and wine. There are also food trucks to try for lunch, and some local pet businesses sell treats for your pup! Food isn't the only thing the Midtown Farmers Market sells; you can also walk by craft booths selling jewelry, handmade purses, art, dog bandanas, and clothes.
Along with live music and cornhole, strolling through Midtown Farmers Market is a fun and energetic weekend activity. It makes for one of the most chill and romantic things to do in Sacramento on a budget. No need to get dressed to the nines for an expensive dinner to have the best time! It is also open all year round, rain or shine, even during the holidays.
Effie Yeaw Nature Center
If you're into nature and conservation, you're going to love Effie Yeaw Nature Center. It's free to enter, but donations are encouraged to help the organization take care of the animals along with the operations. And parking is $6.
You'll get to meet the 30 resident animals, most of them of which are birds like owls, falcons, and hawks. Effie Yeaw also has a turtle, rattlesnake, skink, and some frogs. These animals are native to the American River, which is where Effie Yeaw is located. They cannot be returned to their natural habitat due to injury or adapting to too many people, so Effie Yeaw is their forever home.
Effie Yeaw also has the Butterfly Garden, which houses plants and flowers that attract a variety of butterflies along with other pollinators like bees and hummingbirds.
Visiting Effie Yeaw is educational, and you and your love will have a nice, easygoing date at an organization that does good for the native animals and plants. It's a win-win!
Watch a Drive-In Movie at Night
Channel your inner 1950s couple by watching a movie at the West Wind Drive-In Theater off Highway US-50. General admission is $9 and while there's a snack bar that sells popcorn, candy, soft drinks, and hot food, I think you can also sneak in snacks like you would in an indoor movie theater 😉
Visit a Museum on Free Museum Weekend
Sacramento has a lot of museums, but let's face it; museum admissions cost money. Every year, Sacramento Area Museums hosts Free Museum Weekend, where you can visit one of Sacramento's 25 museums and attractions. In the past (pre-COVID era), anyone can walk in, but it was always so crowded. Now, you have to sign up to attend the museum of your choice. If the one you want to go to is full, you can sign up for the waitlist in case anyone drops out. Going to a museum is ideal for first dates that won't go too awkward.
World Peace Rose Garden
This garden is located in the State Capitol Park houses over 650 roses with 140 varieties of colors and fragrances. The paths along the garden lead to a small courtyard with a fountain in the center. There are a few benches all throughout for you to admire all of the beautiful roses. Can it get any more romantic than that? Don't forget to snap some photos!
Active Date Ideas in Sacramento
Bike, Jog, Rollerblade, or Hike Down the American River Trail
Sacramento is renowned for the Jeddidah Smith Memorial Trail (we just call it American River Trail). It's a 32-mile-long trail that stretches from Folsom Lake to Old Sacramento, paralleling the American River. It's a popular spot for biking, hiking, rollerblading, jogging, or just plain strolling. You don't have to zap through all 32 miles, but it's a great way to bond with your date while getting healthy with your heart pumping.
Climb the Indoor Rock Wall at Sacramento Pipeworks
Sacramento Pipeworks is an indoor rock wall that anyone can visit, as long as you sign a waiver and take an intro class to learn climbing techniques and safety. Since Pipeworks does not have permanent equipment like auto belays, it is recommended to come with a partner, otherwise, the staff will pair you up with someone else inside the gym. But because this post is geared toward couples, going indoor rock climbing is one of the most fun active date ideas in Sacramento! Having a partner in rock climbing is crucial for safety reasons, and you learn to trust each other.
Paddle Board or Kayak at Lake Natoma
Lake Natoma is a small lake, technically outside Sacramento city limits, but just a few miles away off of US-50 in Gold River. The Sac State Aquatic Center is located in Lake Natoma, where you can rent kayaks, canoes, or paddleboards. This makes for a great summer date to cool off from Sacramento's scorching summers.
Go on a self-guided biking tour around town
There are not many guided walking tours in Sacramento, but you can take a self-guided audio tour cycling through the town and discovering the best murals. Since Sacramento is a flat city, it's easy to bike around and you can go at a leisurely pace. All you need to do is download the VoiceMap and punch in the code that was given to you upon booking, along with the instructions. It's only $8.99 too!
Take a swing dancing class at Midtown Stomp
Whether you both take an intro class together or attend the group swing dancing events every Friday night, Midtown Stomp is another fun date night idea in Sacramento. The group events are also a way to make new friends! Admission is $10 for DJ nights and $15 on Big Band nights.
Yoga at Fremont Park
For another fun, relaxing (and free!) date night in Sacramento, Yoga Moves Us offers donation-based yoga classes at Fremont Park in Midtown on Tuesdays and Thursdays from 6–7. Sign up to reserve a spot and fill out a waiver!
Food & Drink Date Ideas in Sacramento
Go on a Food Tour
Aside from being California's capital filled with government buildings and outdoor activities, Sacramento has a thriving food scene. There are so many restaurants around the area; it's hard to figure out where to get started. Midtown Sacramento has an abundance of great restaurants. But why not sample different eateries through a food tour, and learn about Sacramento's rich culture and history?
Here are a few food tours for you and your date to get to know Sacramento's food scene:
Wine and Fine Dine at The Grange
The Grange is one of the most romantic restaurants in Sacramento, but I might be a little biased; it's owned by The Citizen Hotel and caters for weddings held there, and that is where Cecilio and I had our wedding reception. We also ate there for our 2-year anniversary!
The Grange is an award-winning Michelin Guide restaurant, focusing on seasonal and local ingredients, from the produce from Central Valley to the seafood from the California coast. That doesn't mean it's a stuffy restaurant; quite the opposite, actually! You'll see Art Deco motifs all around since The Citizen was built in 1925, and an extensive wine and cocktail bar. The Grange is funky yet elegant, serving only the fresh and most elevated meals.
Bond over ice cream at Gunther's
Whether you share a cone or sample each other's separate flavors, you can't go wrong with bonding over a scoop (or two!) at Gunther's, one of Sacramento's most popular ice cream parlors in the Curtis Park neighborhood. It gets pretty crowded in the summer (sometimes even off-season!), but sometimes you get lucky and find seating. If not you can walk to Curtis Park, and enjoy the open scenery along with the cute houses you wish you could afford to live in.
Coffee morning date
This is something Cecilio and I love doing during the weekend; having a chill, easy Saturday morning at one of our favorite coffee shops in Sacramento or visiting a new one. It's just a nice way to slow down and ease into the weekend, and it's an ideal date whether it's your first one or with your long-time SO. Plus who doesn't love coffee? Even if you don't, you can also get tea or hot chocolate. Also, Sacramento is one of the top coffee cities in the US!
Ride the Sac Brewbike
Pedal your way around Midtown with the Sac Brewbike, a trolley that seats up to 15 people where the tour guides serve you flights of craft beer from Sacramento's finest breweries. You can book individual seats for $40 for a 2-hour tour. Whether you like IPAs or stouts, you'll be happy to know that Sacramento has a pretty robust beer scene!
Go wine tasting
Sacramento may be pretty close to Napa, but it also has its fair share of high-quality wineries and tasting rooms as well. The Sacramento region is home to more than 200 wineries and tasting rooms! Here are a few ones to try:
Unique Date Ideas in Sacramento
Pot & Sip at Prickly Pear
The Prickly Pear is a super cute plant nursery in Midtown (actually it, was a house turned nursery). For a unique and memorable date idea in Sacramento, book their Pot n Sip experience, where you can drink wine or kombucha on tap, and pot succulents or cacti in small jars to take home. You don't have to be a green thumb to do this; I sure am not but had a ton of potting and taking our own succulents home.
You have the option to book the Pot n Sip Light Bites & Potting, which is $49 and provides small snacks, or the Pot n Sip Dining Experience for a full-on dinner for $100. But, these require an 8 and 10 people minimum, so gather your friends and family and make it a quadruple or quintuple date!
Get pampered at Asha Urban Baths
For the ultimate wellness date, look no further than Asha Urban Baths. It's like an indoor hot spring or a Roman bath experience. Keep in mind that you have to quiet down your voice since your experience in Asha is supposed to be a reflective and healing one. PDA is not allowed either, but I hope that doesn't kill the romance factor for you.
A day pass is $35 per person, and you need to bring a bathing suit. The soaking pool, cold plunge, sauna, and lounge are there. You can pay extra for a massage, salt therapy, or sound bath. Sounds like a luxurious, pampering date idea to me!
Watch a Sacramento Kings (or RiverCats) game
I must be a terrible Sacramentan, because of the 20-something years I've lived here, I've never watched a Kings game. Not even during the playoffs. I do know that some of the Kings fans are the most rabid in the NBA and never shut up about them. But from what I've heard, it's a unique experience, and Golden One Center (where they play) is right in DOCO Sacramento, where you can hit up a bunch of shops, bars, and eateries.
I have been to a handful of RiverCats games, which is our Minor League Baseball team. Their stadium, Sutter Health Park, is located in West Sacramento. Visiting a RiverCats game is pretty fun and less chaotic than the Major League games, although they only play in the summer during the summer heat. But it's a nice place to cool off with a beer or wine slushie or chow down on their garlic fries (which I honestly think taste better than the famous ones at the SF Giants stadium).
Go on a River Cruise
I love river and canal cruises, and I find that they are a great way to see another side of a city. For a fun, Sacramento-specific date, go on a river cruise with Hornblower Cruises from Old Sacramento. You'll ride past the Tower Bridge through Sacramento River for an hour. And of course, there's a bar…just saying 😉
Cultural Date Ideas in Sacramento
Visit Crocker Art Museum
Crocker Art Museum is one of Sacramento's most popular museums and the oldest art museum on the West Coast. It consists of two buildings, the iconic Victorian mansion that the Crocker family lived in and housed the artwork, and the Teel Family Pavillion, a 100,000-square-foot building that opened in 2010. It was designed to hold even more of the museum's paintings and sculptures.
Second Saturday
Want to experience the heart of Sacramento's art scene and nightlife? You have to check out Second Saturday in Midtown which occurs between May to October. Second Saturday gives local emerging artists a chance to showcase their work at different galleries. But there's also live music, food trucks, and family-friendly activities. When the evening rolls around, there are block parties and bars hosting afterparties!
Second Saturday is an activity everyone can enjoy, especially couples. It's a chance for locals and tourists to immerse themselves in Sacramento's thriving culture.
Watch a performance at one of Sacramento's many theaters
Sacramento has a handful of theaters that you can enjoy if you are a thespian at heart. Here are a few theaters where you can watch a play or a musical:
Go mural hunting
Sacramento is full of murals, and our annual Wide Open Walls festival celebrates the artists working on them. By going on a mural walking tour, a guide will be able to show you the street art all around town, along with recommending the best places for food, shopping, and nightlife. They will provide binoculars so you can see the murals and all their details.
Romantic Day Trips From Sacramento
Apple Hill
Located around 45 minutes northeast, Apple Hill makes for a cute romantic day trip from Sacramento. Although it's open all year round, and you can go berry picking and searching for lavender fields, fall is when Apple Hill shines. Enjoy autumnal activities such as collecting pumpkins, apple picking, hayrides, and wine tasting. Don't forget to buy a box of fresh apple donuts! And when winter rolls around, you can chop off a tree from one of Apple Hill's many Christmas tree farms.
When you go to Apple Hill, visit Grandpa's Cellar to get the famous coffee flight! I will warn you, it is a very long wait. Expect to wait 30 minutes to an hour.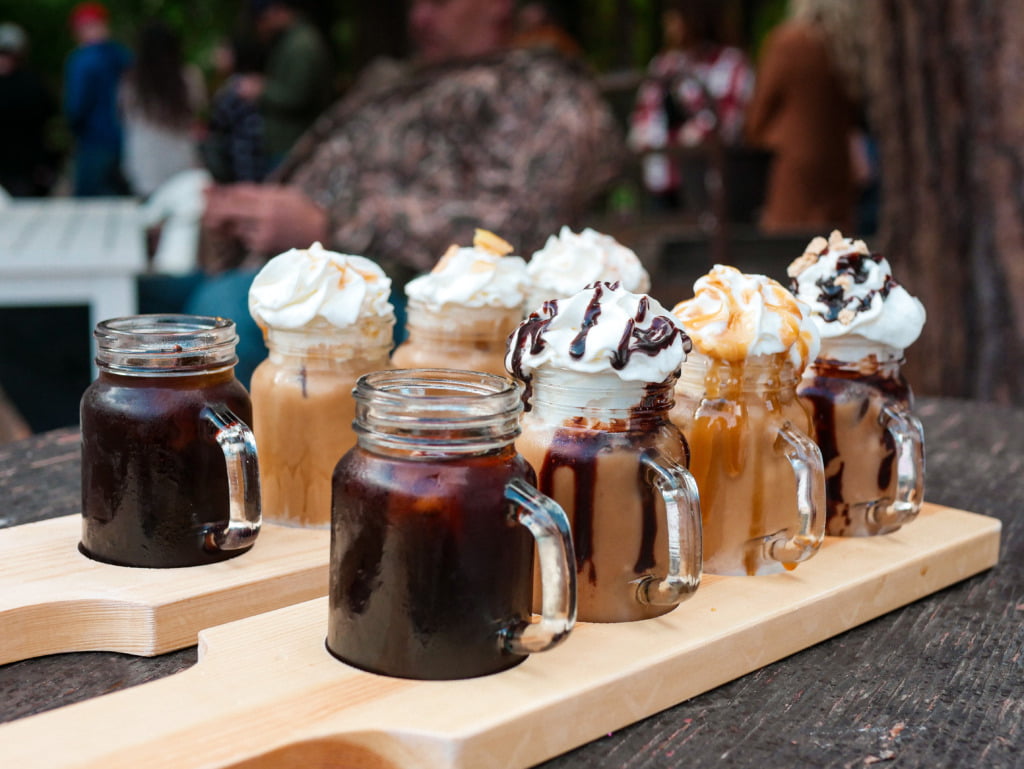 Lake Tahoe
Most Sacramentans head over to Lake Tahoe for a fun outdoorsy getaway, whether for paddleboarding, snorkeling, jet skiing, and parasailing in the summer or snowboarding, skiing, or snowshoeing in the winter. You can go to North Lake Tahoe, which isn't a city but comprised of different towns and beaches such as Tahoe City, Sand Harbor, Kings Beach, and Incline Village, or South Lake Tahoe, an official California city bordering Nevada (with whom California shares Lake Tahoe with). Even if you're not into outdoor activities, you can still enjoy and even swim on Tahoe's beaches during the summer (although some of them are still pretty cold).
If you go to South Lake Tahoe, be sure to check out Heavenly Village. There are so many eateries (I recommend Basecamp for pizza!), shops, and art galleries. There's also an ice skating rink. You can also take the gondola from Heavenly Village to see epic views of Tahoe, and there's also a roller coaster above!
Napa
Wine Country is just an hour away from Sacramento! If you want to have a romantic getaway wine tasting and tasting delicious food, you've got to visit Napa Valley. Napa is known for French Laundry, their famous 3 Michelin star restaurant, which also comes with a hefty price tag. For a more affordable option, you can dine at Ad Hoc, which is owned by Thomas Keller Restaurant Group, which also owns French Laundry.
Lodi
Lodi is a hidden gem to most people outside of Sacramento. This small town is about 20 minutes down south and is known as the Zinfandel Capital of the World. Lodi has 85+ wineries and produces 35% of California's Zinfandel grapes, and you can even download their wine trail map to help you figure out which one to visit first.
San Francisco
San Francisco is only an hour and a half away from Sacramento (not counting traffic) and is also the perfect getaway for couples. Don't miss photo opportunities and landmarks such as the Golden Gate Bridge, the Palace of Fine Arts, Pier 39, and San Francisco City Hall. If you like picnics and long walks on the beach, have a laid-back lunch date at Ocean Beach, Baker Beach, and Golden Gate Park.
Foodie lovers will find San Francisco a paradise, whether you're in search of Michelin-star restaurants or the famous burritos on Mission.
Finding Date Ideas in Sacramento
With gorgeous parks, access to nature and outdoor activities, high-quality beer and wine, delicious food, and a handful of museums, there is an endless amount of romantic things to do in Sacramento. Whether you're a culture seeker, trill chaser, or foodie, you and your date are bound to have a fabulous time in California's capital.
Love what you read? Share the love!
Hannah is a travel writer, graphic designer, and the founder/editor of Hannah on Horizon. She is based in Sacramento, California, living with her husband and two adorable dogs. She shares tips on how to experience luxury travel on any budget, and how to maximize time at each trip or destination, no matter what your budget or amount of vacation time at work. She enjoys making you feel like you have visited each destination with her through her storytelling and informative writing style.